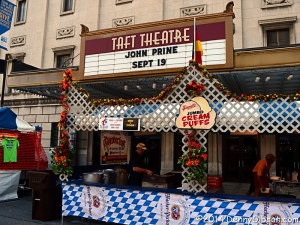 Attending a John Prine concert in the middle of America's largest Oktoberfest may have been the highlight of my week but it wasn't the only musical event involved. Honky tonk ribbon cutting came before and Revival rocking came after. Here, in the order of their appearance, are the things that filled the last week of summer for me.
Early this year, Outlaw Magazine, which is about music rather than law breaking, launched something called the Last Honky Tonk Music Series. Taking its name from a song by singer-songwriter Wayne Mills, who was shoot and killed in Nashville last December, its purpose is "Sustaining the Artists, Sustaining the Venues, Sustaining the Community". Every state is to have at least one venue in the series and Ohio now has two.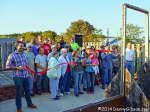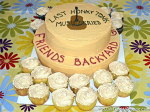 On Thursday, John Nawrocki and I attended the ribbon cutting ceremony that launched the first Last Honky Tonk Music Series performance at Friend's Backyard Grill in Clarksville, Ohio. Clinton County officials help owner Rhonda Friend cut the ribbon.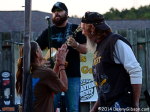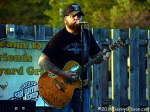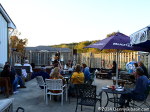 Once the "formal" stuff was out of the way, Dallas Moore got on with the honky tonking. By pure coincidence, I'd seen — but not heard — Dallas about two weeks ago at Ohio's other Last Honky Tonk Music Series location, Win Place or Show. By another, perhaps not so pure, coincidence, that was only the second time I'd stopped at Win Place or Show in the last few years and Dallas was setting up on both occasions. Of course, both stops were to enjoy the outside deck on sunny afternoons which is why I make no claims regarding the purity of the coincidence. That first time, more than a year ago, gear for the whole band was being carried in and I made sure I was gone before they got plugged in. On the most recent stop, it would be a solo performance but I still ate and left. In hindsight, I wish I had stayed. I have seen the Dallas Moore Band in the past and have not enjoyed them very much. On Thursday I discovered that I do enjoy Dallas as a solo performer. I'll definitely hang around the next time I encounter him alone and I might even give the band another listen some day.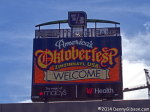 The John Prine concert was Friday. I got my ticket a long time ago and, because it would be in downtown Cincinnati, even had some vague plans about going down early for dinner and strolling. A few days ago, when I finally got serious and realized that the concert coincided with the first day of Oktoberfest Zinzinnati, those vague plans became very solid and darned near perfect.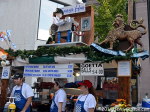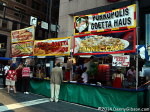 Cincinnati's first Oktoberfest, at least the first of the current run, took place in 1976. With attendance in excess of half a million, it is considered the largest in the United States. I haven't been to Oktoberfest Zinzinnati in several years and when I did go it was likely to be on Saturday or Sunday afternoon. It turns out that Friday evening, with a somewhat smaller crowd, is a much better choice. The only things missing, besides the Saturday afternoon World's Largest Chicken Dance, are the carnival rides which don't get turned on until morning. That not only keeps the number of tikes down but prevents a regrettable tilt-a-whirl ride with a belly full of goetta and Hudy.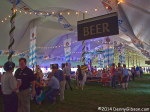 Anchored by Fountain Square, Oktoberfest Zinzinnati occupies five blocks of Fifth Street. A few blocks to the south, the Christian Moerlein Lager House has their own party going on under an immense "authentic Munich-style Oktoberfest tent" they call ÜberDrome. It looks like I captured Moerlein's commander-in-chief, Greg Hardman, in my picture although I didn't realize that until I was editing the picture for posting. I'm guessing that many stick with one place or the other though the walk between Fifth Street and the Lager House isn't all that much longer than the walk from one end of the ÜberDrome to the other.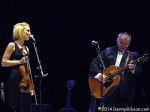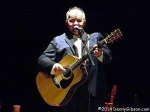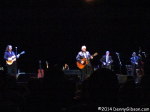 I got back to Fifth Street with just enough time to add a bit of strudel to the goetta and Hudy before heading inside. John Prine's voice isn't quite what it was in the '70s; very few are. I'm sure his recent bouts with cancer haven't helped but the funny songs are no less funny and the touching songs are possibly even more touching. He's definitely still got it. That's Amanda Shires, who opened the show, singing with John in the third photo.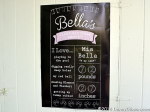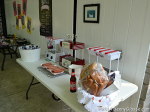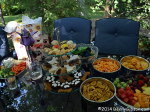 Just like Prine and Oktoberfest, I prefaced my third show of the week with a party. This was a birthday pawty for a Great Pyrenees named Mia Bella. I understand that Bella was even greater (by several pounds) at the time of the party than when the poster was created. There were beef, vegi, and turkey hot dogs, each with its own cooker, along with paw and puppy patterned pastries. Note that Hudepohl fits in at smaller gatherings just as well as at big city festivals.
The third show was in the Revival Room at Southgate House Revival in Newport, Kentucky. I first saw JD Simo in Nashville in 2009 and have been looking forward to seeing him again ever since. He was a hired gun in 2009 but has been fronting his own trio, SIMO, for about three years. They have been here once before but I just could not get to that show. This time I made it and was every bit as blown away as I expected to be. The only thing disappointing was the crowd.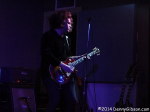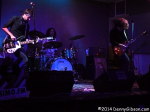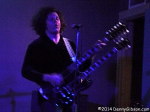 I don't believe there was ever more than forty people in the audience. That made it nice for those of us that were there and the trio sure didn't slack off because of it but this guy deserves to be seen and heard by a lot more people. In 2009 he impressed me in Nashville where remarkable musical talent fills every stage and sidewalk. In Newport, there were times when I thought I might be having a 1968 Jimi Hendrix flashback. I don't mean that JD imitates or sounds like Hendrix but seeing the virtuoso guitarist fronting a driving power trio naturally triggers comparisons with Hendrix, Cream, James Gang, Mountain, and the like. SIMO handles the comparisons well.