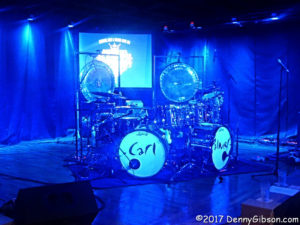 Keith Emerson died in March of last year; Greg Lake followed in December. Carl Palmer looks like he might be around forever. Keith was 71. Greg was 69. Carl was the baby of the progressive rock trio that ruled the 1970s but even the baby is now 67. At 67 Carl Palmer is nearly as quick and powerful as he was at 27 and quicker and more powerful than just about anyone else at any age. Of course, there is a lot more to Carl than speed and power.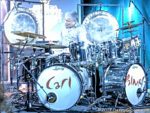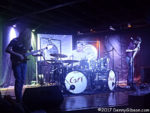 I first saw Carl Palmer in 1971 when Emerson, Lake, and Palmer opened for The James Gang at Cincinnati Gardens. There were two openers that night. One, Free, I knew of and had heard a song or two. The other was completely new to me. ELP blew me away that night with such force that, until I looked up some concert details earlier this week, I had totally forgotten that Free had appeared between them and the headliners.
For starters, they sounded good. Nobody sounded good in Cincinnati Gardens but ELP did. What I mostly remember of Greg Lake that night was his singing. I know he played bass and guitar and may have even temporarily wowed me with his playing but it is his voice I remember. Emerson grabbed everyone's attention. The synthesizer was new and exciting and seemed capable of delivering every sound imaginable. And Keith Emerson was its master.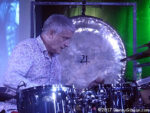 But the drummer got a lot of my attention, too. At the time, I was an active (ever so slightly) drummer myself and, while I wasn't particularly good, I knew enough to realize that this guy was great. Carl Palmer didn't just pound on his massive kit; He played music on it.
I saw ELP once more but, while I was just as impressed with their individual performances, I was actually disappointed in the concert as a whole. It was 1977 and they were touring with an orchestra. A former co-worker thought this was possibly the best concert he had ever attended and an on-line article I just discovered gives me new appreciation for the accomplishment but it just didn't do it for me. Part of what made my jaw drop back in '71 was that three guys sounded like an orchestra. I didn't find a 58 piece orchestra sounding like a 58 piece orchestra nearly as impressive.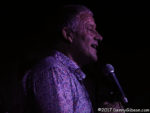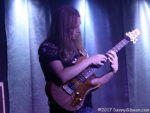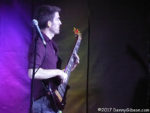 There was no orchestra for Friday's show at Live at the Ludlow Garage. Nor was there a keyboardist or vocalist. Carl occasionally stepped forward to introduce a song or tell a story and that's what he's doing in the first photo. Paul Bielatowicz stuck with his six string electric. Simon Fitzpatrick played both a six string bass and a ten string Chapman Stick.. A Chapman Stick can mimic a variety of instruments and both guitarists worked with plenty of effects. It wasn't ELP but it was three guys sometimes sounding like an orchestra. We had joked about the possibility of getting a two hour drum solo. It was anything but. Carl had some very talented musicians with him.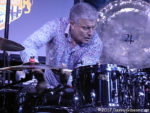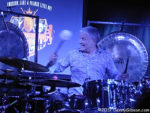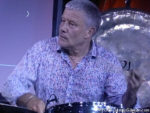 Of course, it was Carl that everyone came to see and he did not disappoint. There were a couple of time he sat quietly and gave Paul or Simon a chance to show off a little but he never left the stage during the hour and a half show and wasn't sitting quietly at all for most of it. No, it wasn't 1971 again but it was closer than I had any right to expect.