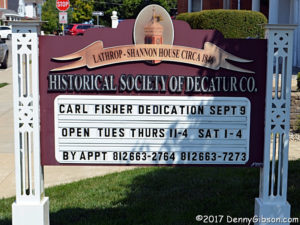 I didn't make it to last month's Birthplace of Route 66 Festival in Missouri but I did make it to Saturday's somewhat smaller Birthplace of Carl Festival in Indiana. Well, it wasn't a festival exactly. It was the dedication of a new monument and by somewhat smaller I mean approximately 100 versus 53000 attendees. The monument dedication took place in the town of Greensburg and the Carl being celebrated was Carl Graham Fisher who was born there in 1874. Fisher was one of the founders of the Indianapolis Motor Speedway and an instigator in the founding of both the Lincoln and Dixie Highway Associations. He got his start as a automobile dealer and owner of a company making automobile headlights.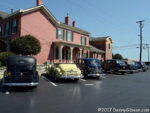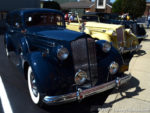 With all those automotive connections it is only natural that many showed up at the dedication. There were some beauties including several Packards which was a brand Fisher drove.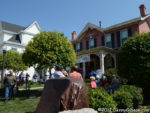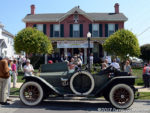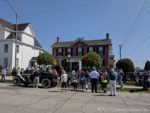 The 1915 Packard that Fisher once owned and used to pace the 1915 and 1916 Indianapolis 500 races sat in front of the Decatur County Museum. The tarp covered monument was close by.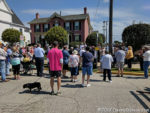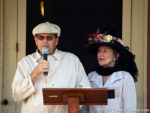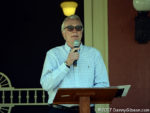 At 12:30 the crowd's attention turned toward the museum's front porch and a number of speakers. Among them was the mayor of Greensburg who proclaimed it Carl Fisher Day. The photos I've posted are of Allen and Nancy Strong, current owners of Carl Fisher's Packard and Jerry Fisher, Carl's great-nephew and author of the biography The Pacesetter.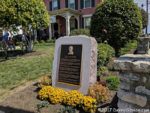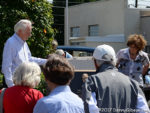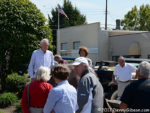 When the time came for the unveiling, Jerry and his wife Josie moved to the monument and pulled back the tarp. The monument's text can be read here.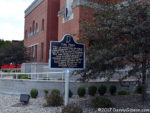 Following the ceremony, I walked to the nearby courthouse where a plaque honoring Fisher was erected in 2014. The sign's text can be read here and here.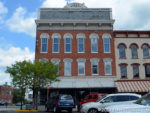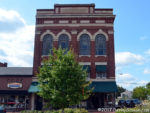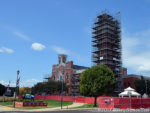 Aside from being the birthplace of Carl Fisher, Greensburg is known for the tree growing from its courthouse tower. Some extensive renovation is underway but the tree, not quite visible in the photo, is still there. The last two photos have even less to do with Carl Fisher than the tree topped tower. Greensburg is the only town I know of with an even number of Oddfellows buildings on the town square. Strange.