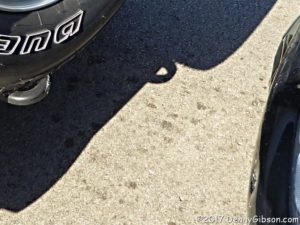 The last few weeks have not been kind to my cars. I definitely use them (This site's title does contain the words "road trips".) and don't always treat them gently but it wasn't me this time. Both cars were violated while not moving.
On June 10, I pulled up behind a SUV that had just exited the expressway near my home then stopped at a traffic light. When the driver realized she was in the wrong lane to make a desired turn, she started backing up to switch lanes. My tiny Mazda Miata was out of sight behind her. The collision was low speed and at first glance it looked like there might be no damage but closer examination revealed a number of scratches and a fairly deep dent from a hook on the rear of the SUV. The driver was very apologetic and there was no question of fault. She would pay for all damages but would prefer to not have the police or her insurance company involved. I certainly understood that and after some conversation and an exchange of contact information I agreed. I also took some "incriminating photos".
That was a Saturday. On Monday I got a couple of almost identical estimates and gave the driver a call. I offered to mail or email the estimates but she said there was no need and immediately sent me a check.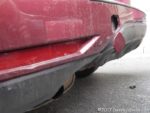 Just a day more than three weeks later I was waiting, in my Subaru Forester, at a traffic light in Harrisonburg, VA, when I was struck from behind. I had originally planned on driving the Miata on the Virginia trip but repairs were not quite finished when I had to leave. It was another small SUV but this time the driver was not a woman but a man with a heavy accent and a hard to pronounce name. But he was as apologetic as the lady had been and again there was no question of fault. Also, just like the other driver, he wanted to avoid police and insurance involvement. He had some connection with a body shop and initially suggested he have the car fixed there. That just was not possible, of course. My home was two states away.
I won't pretend that I pulled out of Harrisonburg, VA, with the same confidence as when the lady and I separated in my own neighborhood and even that confidence had been kind of shaky. But, after more discussion and pictures and information exchange, I drove on with the understanding that I would call with an estimate when I got home. I'm pretty sure that my willingness to do that was aided by the fact that I had places to go and really didn't want to hang around either. My confidence got a huge boost when, misunderstanding my schedule, he called me a few days later.
This time there was considerable difference between two estimates on the car. One shop quoted replacing a fairly big piece while the other quoted repairing it. Repairing the part made the most sense to me and I readily agreed that the lower estimate was quite acceptable. I received a check for that amount on Monday.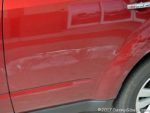 Some might jump to the conclusion that I believe everyone is honest and responsible. As much as I wish that were true I know it's not and my recent trip included a couple of reminders of that as well. Just three days after the big bump in Harrisonburg I came out of a museum to find a new white stripe on the side of my car. No note under the wiper and no driver standing by to explain. Just a smear of white paint that can probably be buffed off and one gouge into metal that can't. And three days after that I got a text message from Discover wondering if I had just made a $453 purchase from Tiffany's. I replied 'N' (as in "not bloody likely") then followed up with a phone call. Discover and other credit card operations are getting pretty good at catching this stuff. My card was deactivated immediately and a new one was in my hands in a few days.
So I'm well aware that I don't live in a world without scoundrels and scalawags but I do live in a world where not everyone is a scoundrel or scalawag. And so do you.