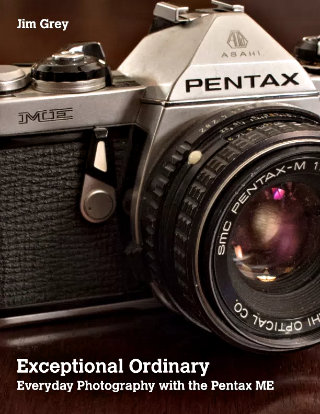 I'm guessing that most people buying this book do so because of an interest in old cameras. Or an interest in film photography. Or an interest in photography as art. Those are all reasons that I bought it but none of them is the primary reason. Or even the secondary reason. It might seem a little crude to admit it but my number one reason for buying Exceptional Ordinary was that I know the author. The number two reason was curiosity. Old cameras, film photography, and art were reasons three, four, and five for the purchase but turned into my top reasons for enjoying it.
Knowing the author really needs no explanation as a reason for buying the book. We all buy things from friends and relatives simply because they are friends and relatives. I first met Jim through a mutual interest in historic roads then learned we also had mutual, but not quite identical, interests in cars and photography. That we both blog probably helped; That we've both been involved in software development maybe not.
Buying the book out of curiosity might not be so easily understood. In my limited experience, print on demand photo books were either really expensive or really crappy. By going with a "magazine" format and keeping the page count down, Jim had kept his book from being expensive. I wanted to see if it was crappy.
It's not. The photos are crisp and the colors look right on the semi-gloss pages. I don't doubt that offset printing with an expert spending some time on color matching could produce something better but it might not be much better and I — and maybe you, too — might not know the difference. Construction and general quality seems good and the book was nicely sealed and packaged when it arrived.
So Blurb, the company doing the printing and order fulfillment, did their part of the job properly. What about Jim's contribution? There are thirty photos in the book plus an un-cropped (or less-cropped) version of the cover image and a small photo of the author. Each of the thirty main photos is accompanied by a paragraph or two describing the picture and something about its creation. Sometimes the picture gets a page all to itself with text on the opposing page and sometimes picture and text share a page. No page has more than one photo. The lens and film are always identified. More often than not, the text will include what it is that Jim likes about the picture. In other words, why it's in the book. There seems to be a roughly even mix between color and B & W. Subjects range from buildings to people and from automobile trim to pets. Surroundings range from sunlit outside spaces to dark interiors to midways at night. It's really quite the sampler and every image is worthy of study. Jim also did his job properly.
I know that part of what Jim wanted to accomplish with this book was to satisfy his own curiosity about publishing one. A more general goal was to show that art can be produced while having fun and that high priced gear isn't required.
The book's subtitle is "Everyday Photography with the Pentax ME". The reason that only lens and film need be identified for each picture is that the Pentax ME is used exclusively. Jim talks about the camera in a short introduction and explains that, while quite capable, the ME is usually overshadowed by the better known Pentax K1000 along with some other popular 35mm SLRs. As a result, the ME can often be found for under $50 which not only gets you a very good camera but includes access to a large selection of extremely good lenses. Jim put this very ordinary equipment to work producing some exceptional images. Goal accomplished.
The book can be previewed and purchased here.
Jim's blog, which is typically but not exclusively about photography, is here.
Exceptional Ordinary, Jim Grey, Published via Blurb (March 21, 2017), 11 x 8.5 inches, 44 pages, ISBN 978-1366200280