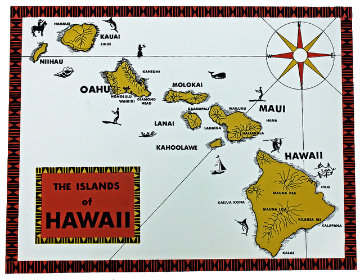 More often than not, I wait until the first day of a trip is past and the journal for that day posted before making an entry here. Not this time. One reason is that most of the first day will be spent flying so there may be little or nothing worth reporting. Even if there are things to post, I may not have the time or energy to do it in a timely manner. The fact that all that flying involves six time zones won't help. There are certainly enough potential problems with the first day's journal post to justify doing the blog post a little early but I must admit that the timing just might be affected by my own excitement.
That the destination is Hawaii accounts for some of the excitement but hardly all. I have previously visited forty-nine of the United States as well as the District of Columbia which means that Hawaii will complete the set. That's a pretty big deal to me and the fact that I'll be celebrating my seventieth birthday while I'm there is kind of a big deal, too.
In addition to the special occasions it contains, this trip is different than most in the degree of planning involved. Flying is required which means that start and end dates had to be firmly nailed down in advance. Same thing with hotels and rental cars since a full hotel or a sold out rental fleet isn't something I want to deal with on an island. So, although I'll be able to exercise spontaneity at meal time, I pretty much already know where I'll be and when I'll be there. Tomorrow, March 23, I head off to spend six nights each on Oahu, Maui, and Hawaii (The Big Island).
The journal for the trip is here. This entry is to let blog subscribers know of the trip and to provide a place for comments.