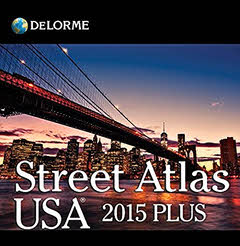 DeLorme Street Atlas is one of my oldest tools. I started using it in 2001. I've talked about it in a few posts but was surprised to see that it has never been the primary focus of a post. The reason, I suppose, is the old story of taking something for granted until you lose it. The first version I used was 9.0. There were a few more numbered revisions and a misstep into a Road Warrior version before the numeric year was used in the product name and a string of annual releases began. I didn't grab every one. I more or less fell into biennial mode and upgraded just every other year. 2016 was to be my next planned update but plans changed. In early 2016 Garmin closed a deal to acquire DeLorme and all Street Atlas development was stopped. 2015 was the final version produced. This first post with DeLorme in the title will also be the last.
I did an earlier than planned update and purchased the 2015 version so I could have the latest possible. As I've written before, there is considerable overlap between Street Atlas and Garmin's BaseCamp and it would make no sense for one company to maintain both products. BaseCamp can communicate with Garmin devices while Street Atlas cannot so the choice of which to keep is obvious.
However, even though I don't believe that Street Atlas can do anything BaseCamp can not, I do believe there are things that Street Atlas does better or more conveniently. In some cases this really is simply my belief. When I purchased the latest version I looked through some of the customer comments and noticed that most of the negative comments were aimed at the user interface, the very thing that has kept me hooked.
For the immediate future, I expect to continue using Street Atlas for.a couple of tasks while admitting that the primary reason is nothing more than the fact that "old habits die hard". I'm basically talking about routing and things related. Garmin seems to have eliminated all of the real problems that BaseCamp once had in this area and I accept that BaseCamp's methods are probably just as easy as Street Atlas's. But I have years of experience with Street Atlas and I sometimes struggle to do something in BaseCamp that I can accomplish in an instant with Street Atlas. I have plotted a few short routes directly in BaseCamp and I realize I need to switch over to it completely at some point but I'm going to continue living in the past just a little longer.
I will also continue using Street Atlas to produce the locator map posted for each documented trip. The "old habits" thing is certainly at work here but the truth is I have yet to seriously attempt to produce an equivalent map with BaseCamp so I have no idea what is hard and what is easy. I may eventually find that making my little maps is easier and quicker with BaseCamp but for the near term I'll be posting maps that look just like they always have because they're made the same way with the same tools.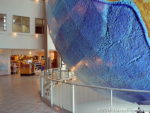 Street Atlas is almost certainly not the only DeLorme offering that will be vanishing. It is pretty much accepted that Garmin bought DeLorme for its InReach satellite communication technology and that all other products, including maps, gazetteers, and GPS receivers are candidates for elimination. The Yarmouth, Maine, headquarters remains although the map store has been closed. Reportedly one of the conditions founder David DeLorme put on the sale was that Eartha, the World's Largest Rotating, Revolving Globe, remain accessible to the public and so it is. The photo at left is from my 2015 visit.
The inevitable isn't always easy to accept and sometimes we can even hold it off for a little bit. It may even be appropriate that, for at least a short while, I'll be following decommissioned routes to abandoned buildings and ghost signs in bypassed towns with orphaned software.