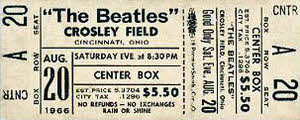 …that the Beatles finally got to play — at Crosley Field. I was there. I was also there the day before when they didn't get to play. Thinking about that weekend still brings a smile despite details having seriously faded from many of my memories and others turning out to be dead wrong. I have no souvenirs or photos. The ticket in the image above isn't mine (It's from RareBeatles.) but I once had eighteen of them.
Tickets went on sale in April as my freshman year at the University of Cincinnati was winding down. Someone down the hall from my dorm room was a friend of Joe Santangelo, the younger brother of concert promoter Dino Santangelo. That was certainly lucky but was not nearly as miraculous as the fact that I had money at the end of the school year. Joe could provide third row tickets and I had a hundred dollars. I bought eighteen at $5.50 each. That was face value. No service charge. No handling fee. No Ticket Master. I'm not certain but I'm thinking that the money may have come from a few weeks of wearing a stinky T-shirt and letting people sniff my armpits. Proctor and Gamble often used students in product tests. I participated in a couple and their completions marked some of the few time I actually had cash in hand in those days.
I sold fifteen of those tickets for as much as ten dollars a piece. It was my only serious scalping venture and I remember minor feelings of guilt at selling something for nearly double what I'd paid. I also remember that I didn't like being a salesman and it showed in my lack of total success. When August 20 arrived I still had three tickets in my possession. Two were for me and my date. The third was left over inventory.
Yes, I had a date but it hadn't been easy. School was out and I was back in Darke County with the concert about a hundred miles away. None of the few girls I had any sort of contact with could or would go. As I recall, Micky was the friend of a co-worker. What I do recall vividly is picking her up. This was in the final days of my 1959 Chevy co-ownership. The sky was clear and the sun was shining as I pulled up to her house with the top down and those big white fins spread out behind me. The Troggs' Wild Thing was playing on the AM radio as I turned off the car and headed to the door to meet a girl I'd only talked with on the phone. There is simply no denying that the Beatles and Troggs can make you feel cool even when you're not.
I can't remember when the top went up. Maybe we made the whole drive with the car open or maybe we closed it to help with conversation and to keep Micky's hair in place. It's really strange what details stick and which disappear. At the stadium it quickly became clear that I had little chance of selling my extra ticket. The concert had not sold out and the scalping scene that we know today did not yet exist in any case. I ended up giving it to the usher who showed us to our seats near first base. No one ever appeared for the seat so he may very well have the souvenir that I don't.
When the rain hit, someone magically produced several big plastic sheets and everyone in our section tried to form some shelter. Attempts to dump pools that collected without drenching someone weren't always successful and waterfalls could appear at any time where sheets came together. But I don't remember anyone becoming the least bit angry. We were all wet and arms got tired as we struggled to hold that plastic above us while hoping against hope to hear the music we had all come for. The huddled masses under that plastic may have been soggy and disappointed but we were having fun and laughing. Maybe it was because we were all younger. Maybe it's because the world was.
I recall Micky having a good time and laughing along with everyone else and there was a solid reason that she couldn't return the next day. Even so, we never saw each other again. I suppose that a pair of two hour rides separated only by sitting in the rain for two hours might not be the ideal first date.
Fortunately my buddy Dale was able to make it and the two of us headed to Cincinnati for the rescheduled concert. We didn't quite make it in time although I'm not 100% sure when we did make it. Combining our sketchy memories with author Scott Belmer's "the best we can figure" sequence of opening acts and songs from The Beatles Invade Cincinnati, I think we must have reached the ballpark about the time the Cyrkle took the stage. Belmer lists the sequence of acts as the Remains, the Ronettes, the Cyrkle, and Bobby Hebb and he thinks the Cyrkle opened their set with Red Rubber Ball. I recall hearing that song before we reached our seats; Maybe even before we entered the park. So we probably caught part of the Cyrkle's set, all of Hebb's, and missed the Remains and Ronettes completely. Besides doing their own short set, the Remains were the backing band for both the Ronettes and Hebb so we would have at least seen them perform. Had we seen them open we would probably remember them much better. Something that I only learned in putting this post together is that they began the show with Hang On Sloopy. It wasn't the Remains that had put the song on the charts the preceding fall. That was the local band the McCoys who Dale and I both knew rather well. We might have actually remembered that if we'd heard it.
I have learned that at least one of my memories was absolutely wrong. For many years I told people that the Beatles had opened with Paperback Writer and that the opening harmonies sounded very non-harmonic. Every account I've seen says they opened with Rock and Roll Music and Paperback Writer was their tenth and next to last song. I obviously misremembered the sequence but I'm sticking by the non-harmonic part. I think there may have been some speakers along the base lines and we could hear the music to some degree. There was stiff competition, however, and I think I watched the screaming and crying girls in the stands nearly as much as I watched the show on the fairly distant stage. Neither Dale nor I screamed or cried and I don't think Micky would have either. Of course, we'll never know for sure.
The Beatles flew directly to Saint Louis to perform that evening. Four more shows (New York City, Seattle, Los Angeles, San Francisco) completed the tour. They never toured again. Crosley Field served as the Reds home for three and a half more seasons before being replaced and demolished. In 1988 a replica of the field was constructed in the Cincinnati suburb of Blue Ash. Later today, the fiftieth anniversary of the concert will be celebrated there. (The Beatles At Crosley – 50 Years Later!} The weather looks promising so maybe I'll put the top down on the Miata, crank up Wild Thing on the iPod, and see if any of the chicks at the Senior Center want to go.
ADDENDUM 28-Aug-2016: There's a post on the anniversary celebration here.