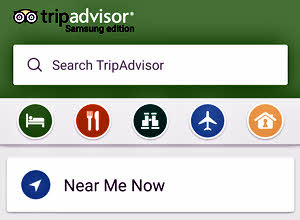 I'm talking about travel advice and I'm really talking about one particular website. It's a site, TripAdvisor, that I've used and fed for many years. We are, in a sense, nearly the same age. The first trip I documented on the web began in August, 1999. TripAdvisor was founded in February, 2000 and has become one of the best examples of crowdsourcing on the internet. An even better example, Wikipedia, defines crowdsourcing as the "process of obtaining needed services, ideas, or content by soliciting contributions from a large group of people". TripAdvisor collects, vets, and organizes millions of reviews on motels, restaurants, and attractions. There are, of course, other crowdsourced collections of reviews. Yelp and Google are two that I use now and then. Google's reviews are entwined in their maps feature which makes them unavoidable/convenient. I have nothing negative to say about Yelp or Google or any other rating service but TripAdvisor is the one I've come to depend on.
In the old days (i.e., five years ago), while it wasn't unheard of for me to use TripAdvisor to help select motels en route, that selection was much more likely to happen before a trip started. My most common use of the site once I'd left home was to pick a dinner spot after checking into a motel. On that latest trip, selecting and booking motels one or two nights ahead became standard procedure. This was usually done from from another motel but I accomplished it from a roadside turnout using my phone on a couple of occasions. The phone actually became the default device  for selecting a dinner spot while the laptop booted up. That's a screen shot from the mobile app at the top of this article.
The target of that latest trip was Alaska by way of Canada. Territory that was, once Cincinnati was a few hundred miles behind me, totally unfamiliar. Shortly before setting out, I'd told a friend that one of the things I was looking forward to was spontaneously picking each night's lodging as was common on my earliest trips. In those days, I would start looking for a place to stay in the late afternoon and, if an appropriate independent failed to appear on the two-lane I was driving before I was really done for the day, I could usually find an acceptable Super 8 or some such in the cluster at a nearby interstate exit. Had I really thought this through before departing I'd have realized what became quite apparent within a few days on the road. Traveling in western Canada and Alaska is not at all like traveling virtually anywhere in the USA. For one thing, no matter how many lanes make up the road you are on, it is probably the only one available. There is no interstate with all sorts of services paralleling older and less popular roads. Not only is there essentially just one path, as it moves to the north towns become fewer and each night's stop more predicable. Of course, that's true for everybody which means those towns can fill up. Almost without realizing it I fell into a pattern of selecting each night's motel from the one previous. TripAdvisor was always involved in the selection and sometimes in the booking, too.
The lists that TripAdvisor produces can be sequenced by things like composite user ratings or price. List position is important but not nearly as important as reading at least a few reviews. I'm always a little leery of reviews that stray wide of the pack regardless of the direction of the straying. I also discount reviews where it seems that the writer may have had a problem with a third party booking agency or a single employee that tainted their opinion of the actual motel. As someone who favors independent mom & pops, learning something about the owners can be a help. On the other hand, while knowing whether a motel allows both dogs and cats or just one or the other is crucial to many travelers, I have neither and couldn't care less.
I mentioned booking through TripAdvisor which was a new thing for me. A third party actually does the booking. For all but one of my bookings this was Booking.com. The exception used GetARoom.com. The only hiccup was one of the Booking.com reservations went missing but the motel wasn't full and I was able to book on arrival. I think I'll still book directly more often than not but being able to book a room immediately after making a pick can definitely be convenient.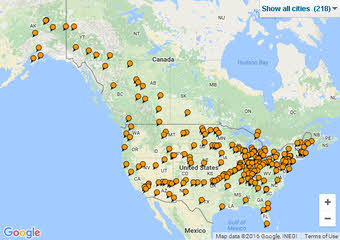 It really was the realization that I had used TripAdvisor so regularly on the Alaska trip that made me think of doing a post to thank and praise them but it is also a chance to talk about my part in the crowd that's doing the sourcing. I don't know when I first used TripAdvisor but I know it was well before I submitted my first review in August, 2008. I obviously warmed to it slowly and submitted just one review per year in 2008, 2009, and 2010. The gates finally opened with a western Lincoln Highway trip but I think it was a couple of trips later and a desire to boost a mom & pop motel in Michigan that got me to thinking differently and belatedly post several reviews from the Lincoln Highway outing.
So now I'm a regular contributor. It's how I pay for the advice I take. But even now I do not review every place I visit. I only review chains if there is something that makes a particular motel or restaurant different from others in the chain. I do not post negative reviews. That doesn't mean I've never met a meal, museum, or motel room I didn't like. It's simply that I see no reason to spend time and energy writing a review for them. That's the same reason I don't post negative reviews on this blog. I submitted photos with some of my early reviews but I soon quit. TripAdvisor has the right to use uploaded photos however it sees fit without crediting the source in any way. Sorry but that's not for me. My member page at TripAdvisor is here.