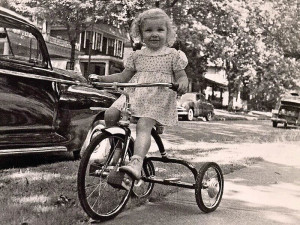 Laurel Kane has been gone nearly three months. The Route 66 icon and personal friend died on January 28, 2016. In the days that followed, many of her friends and associates shared memories on Facebook, on their own blogs and websites, and in various comment threads and other locations around the web. For a hodgepodge of reasons, not all of which even I understood, I didn't. It certainly wasn't because of a lack of memories. There were plenty of those swirling through my mind as January came to an end but I made no effort to capture them. I just let them swirl.
There was no funeral gathering or big memorial service at the time of Laurel's passing. Several members of the Route 66 community, in the area for another event, are gathering in Afton today to share memories. Her family is hosting a Celebration of the Life of Laurel Kane at her beloved Afton Station next Saturday which I will attending. This seems the right time for this post.
I knew Laurel for slightly more than a dozen years. Our first face-to-face meeting was in September 2003; Our last in May 2015. Phone calls, email exchanges, and other communication occurred both before our first and after our last physical meeting. Our most recent email exchange took place a few days before Christmas.
That initial meeting was at the Route 66 Festival in Springfield, Illinois, which I believe was the farthest from Afton Station I ever personally saw her. I had already driven Route 66 end-to-end twice before I learned about things like festivals. I learned of that one too late to get in on the awards banquet but did manage to snag a spot at the eGroup breakfast. (For any that don't know, a Route 66 Yahoo group often gets together for breakfast during major Route 66 gatherings.) I knew only a few names and almost no faces and probably looked pretty much lost. Laurel invited me to sit with her and her daughter and I was lost no more. Of course, I soon learned that making people feel welcome was just one of Laurel's talents.
We met several more time over the years. All were in either Tulsa or Afton with the exception of our last meeting in May when I was attending the Jefferson Highway Conference in Muskogee. Juggling Laurel's always busy schedule and that of the conference, she and Ron McCoy met me for linner (Laurel's name for a meal between lunch and dinner) in Pryor about halfway between Afton and Muskogee. Laurel insisted on getting together despite it interfering with watching her beloved Kentucky Derby.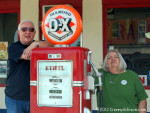 The picture of Laurel with Ron and Ethyl is from a 2011 stop at Afton Station. Not only do I miss seeing her at the station, I miss, as do so many others, reading her blog. It may have been created to promote the station but Thoughts from a Route 66 Business Owner might involve just about anything going on in any part of Laurel's world. It was sometimes informative, sometimes insightful or entertaining, and always interesting.
I also miss Laurel as a reader. I miss her in ways that not everyone will. Laurel was one of a small group of people who subscribed to both my trip journals and my blog. She was actually part of the smaller group who read them with anything approaching regularity. I know Laurel did not read every word or look at every picture but she read and looked more than most. And she occasionally interacted with a comment or an email which made her part of an even smaller group. Laurel had visited every state in the union and had lived in several. Her response to a journal post often concerned something she remembered about where ever I was from her own time there. A semi-recent one was my January 2015 visit to Florida. When she saw I would be near a place where she once had a condo she dropped me a note. I was able to give her a little update and benefit from her restaurant suggestion.
The Cliff House in San Francisco was a completely different story. The historic restaurant is something of a symbolic end to the Lincoln Highway. Despite never having been there, Laurel had assembled a large collection of Cliff House memorabilia and got a little kick from the few times a road trip took me there.
Laurel also read my printed words and read them before almost anyone else. Like this website, the two books I have self published are more bucket list and hobby than a serious attempt at a new career. Laurel agreed to help me out by proofreading both books and both were considerably improved by her efforts. Although she had the knowledge and skill to be a grammar Nazi, Laurel was pretty much the opposite. Most of her corrections seemed like friendly suggestions and that's essentially what they were. Laurel was never upset or even slightly offended on the rare occasion I chose not to follow a suggestion. She sometimes even encouraged a little rule breaking like when she followed tagging an incomplete sentence with "…but I like incomplete sentences."
I had nothing to do with the creation of the photo at the top of this post. I stole it from Laurel's Facebook page where she posted it as a profile picture back in 2011. Though unintentional, I did have something to do with that. Facebook friends of mine probably know of my habit of changing my profile picture to a similar one from my childhood when I set out on a road trip. When I did that for an August 2011 trip I added the description "Looking for a triker bar". That's when Laurel changed her profile photo to the one from her own childhood and asked, "Can I go to the triker bar with you?" We never made it to a triker bar but we did make it to Clanton's and Tally's and a few other places including the "Center of the Universe". Every one of those many memories brings a smile.
Although they don't all come from actual meetings, a search for "Laurel Kane" at DennyGibson.com returns a couple dozen references for anyone curious about other memories.