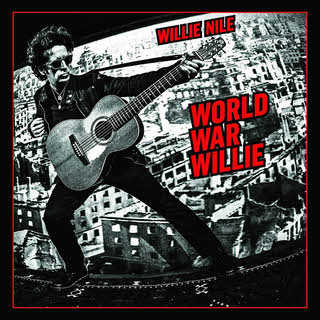 I've been a serious Willie Nile fan for barely two years or something like 5% of his career. I feel bad about that. I know I missed a lot and assumed that I'd missed him at his peak. World War Willie makes that assumption laughable.
I've told elsewhere how I remembered 1980's "Vagabond Moon" only after his 2013 road trip anthem, "American Ride", caught my ear and how I was subsequently blown away seeing him live in February of 2014. I can't say for certain that Willie, who is just a little over a year younger than me, is as energetic on stage as he once was but it's possible. Are the shows I've seen as good as the ones I've missed? How do performances of the most recent two years compare to those that came before? I can't know that but I do know that they are outstanding and compare most favorably with some great past concerts that I didn't miss.
While it is impossible to go back to attend those missed shows, it is quite possible to listen to music created in the past and I did that eagerly. There were no disappointments. Earlier Willie Nile albums held up well when compared to American Ride and vice versa.
The first new Willie Nile product to be released following my conversion was 2014's If I Was a River. It was a delight but different. It was mostly solo and acoustic and maybe the sort of album that fools like me think of an aging rocker doing as he slows down but Willie wasn't slowing down at all. The piano was his first instrument and he told writer Peter Gerstenzang that he had "…wanted to do an all-piano album for a number of years".  He also told Gerstenzang that, "I'm gonna make a full-on rockin' album with my band for the next release." And so he has.
The new album rocks as hard as Places I Have Never Been or Streets of New York or any of the other previous Willie Nile offerings. As guitarist Poppa Chubby says, in one of the first outside things I read about World War Willie, "There's not a single down moment on this record." What there is is eleven new songs and one cover. There is serious stuff like ""Let's All Come Together" and fun stuff like the title track and "Grandpa Rocks". And of course there is serious stuff disguised as fun stuff like "Citibank Nile". The lone cover is Lou Reed's "Sweet Jane" which Nile has frequently played live and on which he has put his own stamp.
Great characters populate great songs. Folks in my age bracket might identify with the subject of "Grandpa Rocks" whose "hair what's left grows down to his socks" and who wears a "'been there' grin". I feel like the line "He ain't afraid of dyin' he just likes bein' alive" fits perfectly. The "Runaway Girl" is "a two-dream girl in a one-horse town". The album's most disturbing character appears in what is currently my favorite song in the collection. With "fire in her eyes and a pint between her thighs" the young girl in "Trouble Down in Diamond Town" is clearly set on self destruction. The song's slightly syncopated three shots mark some of the most efficient and effective use of drumsticks this side of the opening of the Eagles' "Hotel California".
Drummer Alex Alexander provides a lot more than three shots. Neither he nor bassist Johnny Pisano are ever intrusive but focusing on either will reveal some truly impressive work that both supports the tunes and drives them forward. One time Eagle Steuart Smith contributes guitar to a couple of tracks including the Levon Helm tribute "When Levon Sings". However most of the album's guitar work comes from band regular Matt Hogan and that includes some mighty nice slide playing on the bluesy "Citybank Nile".
"Grandpa Rocks" ends with the spoken words "Where's my cane? Who are these people?Get offa my cloud." It's natural to think that Grandpa is Willie and that those words come from the real Willie Nile. However just a little thought is all that's required to see that that simply can't be true. Everybody's welcome on Willie's cloud. Climb aboard and listen up.