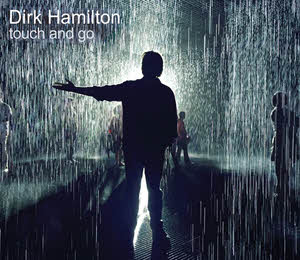 In my view, the last few weeks have been a truly awesome time for new music. A new Willie Nile CD arrived with a few days left in March then, with April barely a week old, this delightful disk appeared. Dirk and Willie share more than an appreciative fan in Ohio and neighboring CD release dates. Both were touched by fame near the three-quarter mark of the last century and both ran away from the business of music for a few years. But both came back because musicians can't stay away from music and songwriters can't keep from writing songs.
Thirteen Dirk Hamilton written songs make up Touch and Go. Most are new but not all. "Build a Submarine" first appeared on 1990's Too Tired to Sleep.  "The Only Thing that Matters" was on 1995's Yep!. One of the new songs is something Dirk says he started writing in 1971 and finally finished in 2014. I heard that song, "For the Love of a Lady", live in October of 2014. In my description of that concert I say that Dirk did three songs for the first time in front of an audience but I couldn't remember any of the names. This was obviously one. I believe the others were "Head on a Neck" and "Mister Moreno" since I recognize both and both appear for the first time on this album.
Touch and Go owes its existence to a chance meeting with a long time fan. Producer and multi-instrumentalist Rob Laufer introduced himself to Dirk at a California house concert and explained that he had been a fan since the 1970s. One thing led to another and this Laufer produced album is the result.
It seems things started with Dirk recording a couple of songs in Laufer's studio and Laufer subsequently "producing" "Gladiola" by adding several tracks to Dirk's voice, guitar, and harmonica. In an interview on KPFA radio (available here) Hamilton says he was initially a little uncomfortable with the process as he is used to doing things live in the studio with the band but eventually decided that he liked the sound. I'm glad he did. Yes, magic can sometimes happen when musicians are recorded as a group with each feeding on the playing of the others and that simply can't happen here but it's sometimes only a possibility anyway. Rob Laufer is an excellent player as well as producer and he has constructed some really solid underpinnings for Dirk's tunes. The organ on "Head on a Neck" and the guitar work on "Gladiola" and "Cheers to the Heart" are particularly nice.
"Cheers to the Heart" is a driving rocker and my current favorite tune on the CD. On my first listen the the album, it was somewhere in the middle of this song that I was struck with the thought that it would be right at home on one of the 1970s albums that made me a Dirk Hamilton fan. With that in mind, subsequent listens revealed that this was true of several other tunes on Touch and Go. The voice has aged but it has done so nicely and there are melodies just as well crafted and lyrics just as meaningful as those earlier offerings. Maybe it helps that Laufer is familiar with and an admirer of those early albums. He makes Dirk sound like Dirk.
What Hamilton calls the most important song on the album closes it. "Mister Moreno" was inspired by the 2012 Sandy Hook shootings and Dirk says performing it can sometimes be a real challenge because of the emotions it brings to the surface. Dirk's lyrics can sometimes be abstract and sometimes openly playful but they are almost always insightful and thought provoking. Sometimes they are crystal clear as are these lines from "Mister Moreno":
Politicians talk of peace, dining with gunrunners in the plaza
Sharing photos of their families and the missiles they are selling down in Gaza.
Another thing that has remained constant and is reminiscent of the early days is Hamilton's caring and concern for this planet. That concern is clearly present in several tracks on Touch and Go but it seems a little more accessible than it has been lately and that just might be because of Laufer's contributions. Dirk and Rob make a good team. Hope they do it again.
Buy this and other Dirk Hamilton CDs here.