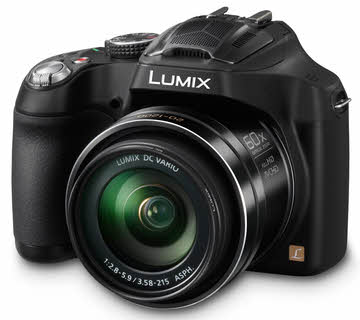 My gear had been stable for quite some time. The most recent newcomer was a Garmin zūmo 220 in January of 2012 and the newest camera a Nikon D5100 acquired the preceding September. The way the image capturing devices in the lineup were used had developed into something a little different than what I originally anticipated but it was all good. The D5100 is small for a DSLR but it's still pretty big. When I'm carrying it my primary intent is, more likely than not, to take pictures. On the other end of things, my mobile phone is almost always with me and can be used when I'm not planning to take pictures but an opportunity — or need — appears. In between was a Lumix DMC-FZ8 originally purchased, back in July of 2007, to be my main camera. It went into service as the "big" camera in partnership with something more pocket-able. But the FZ8 fit into a belt bag and, while too big for a jeans pocket, into jacket pockets rather easily. After a DLSR started filling the big camera "I'm definitely taking pictures" role, I came to think of the FZ8 as a smallish camera that was easy to have with me when I thought I might want to take a picture. It became the workhorse camera for concerts and presentations where I wanted to grab some decent photos but did not want to be obtrusive.
It was a comfortable situation but it couldn't last forever. In September the FZ8 died and I immediately became painfully aware of just how much I'd come to depend on it. On one hand, improvements in technology made smartphone photos equal in quality — in certain situations — to those of the Panasonic camera. In fact, although the spec is often misleading, my Samsung Galaxy 4 has nearly twice the pixels of the FZ8, 13 MP to 7.2 MP. But in terms of usability there is no comparison. There are few things more obtrusive or less stable than a smartphone held out far enough to compose a photo on its brightly glowing screen and very little as frustrating as trying to do it in bright sunlight. I even dug out the old Nikon Coolpix 3200 just to have a small camera with an eye-level viewfinder but that was far from satisfactory. I can hardly blame the decade old Nikon, though. I had become accustomed to higher quality images and, more importantly, less shutter lag. The 3200 was usable as a stopgap but it was a rather poor one.
There was no great urgency but I did start looking about the Internet once in a while for a replacement for the dead FZ8. The problem was that low priced cameras with eye-level viewfinders were pretty much a thing of the past. Offering only LCD screens for framing photos make them closer to a smartphone than to my idea of a camera. The latest in the line of FZ8 successors was the DMC-FZ70 which originally listed for $399.99. While that was very much in line with what I had paid for my FZ8 and the FZ5 it replaced, I had bought those as primary cameras and I wasn't comfortable paying that much now for what would, from the very beginning, be an auxiliary to a Nikon DSLR.
The camera is no longer available from Panasonic and I've found postings about it being discontinued dating back to July of last year. Apparently there were bunches of these in the pipeline because even today I can find plenty of them for sale on line. Prices range up to $325 despite the last price on Panasonic's website being $299.99. Panasonic may have lowered the price around the end of November because that's when I noticed prices from some sources starting to dip below $300. On a day in mid-December it occurred to me that some brick & mortar stores might have the camera available to look over. I quickly learned that Best Buy carried the camera but was obviously closing it out. The store nearest to me had none left but the next nearest did. The closeout price was a wallet tugging $150.
At $400 the camera specs are impressive. At $150 they are almost unbelievable. Topping the spec sheet are the 16.1 megapixel sensor and the industry leading 60x (20-1200mm) zoom lens. Other impressive numbers are the 100 to 3200 ISO range (1600-6400 High Sens mode) and 4 to 1/2000 second shutter speed. Unfortunately those aren't the camera's only big numbers. Its 1.34 lb weight is about twice that of the FZ8. Its 5.12 x 3.82 x 4.65 inch dimensions are 15% to nearly 50% larger than the FZ8. I feared that size would be a problem and holding the camera in my hand in the store did nothing to alleviate that fear. The bargain basement price did.
Of course what the bargain basement price really did was cloud a problem not eliminate it. The FZ70 did fit into my belt bag but getting it in and out was nowhere near as easy as popping the FZ8 in and out and getting it into any of the jacket pockets that had held the FZ8 was simply impossible. For many people, the Panasonic DMC-FZ70 would be the ideal camera. Sadly, I'm not one of them. As I write this, it remains in my possession but its spot in the rotation has already been taken by another Panasonic camera. I'd love to make someone a very good deal on a very good camera and may soon actively pursue doing that on eBay.