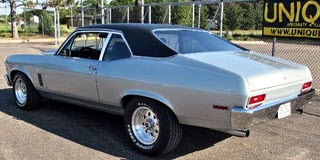 Again I must confess to a purloined photo gracing yet another My Wheels post. My car did not have the highly visible dual exhausts or fancy wheels of the pictured vehicle nor did it have the unseen 350 V8 and 4-speed floor shift. Mine was a 307 V8 with a 3-speed automatic. However, my car was, just like the one at right, a Cortez Silver 2-door with — and this is important — black vinyl top. It is the only vinyl topped car I've ever owned and one of very few I can even imagine owning without some level of embarrassment. While I doubt everyone agrees that the vinyl covering looks pretty good on this car it's apparent that I'm not alone in thinking so. There are many full restorations of third generation Nova coupes that include a restored vinyl top. And that includes some high-end 396 Super Sports.
There was nothing extraordinary in my acquisition of the car. I bought it from a Chevy dealer's used car lot for a reasonable but not remarkable price. I don't recall any of the numbers though I do recall some evidence surfacing while I owned the car that the miles showing on the odometer were considerably less than those actually traveled. Selling used cars has always been something of a craft and its practitioners somewhat crafty.
Viewed in isolation, there was nothing extraordinary about the Nova's departure, either. However, when seen as part of the My Wheels story, it stands out as the first car I ever sold in drive-able condition to a stranger. Only three cars had previously left my possession while drive-able. The 1952 Ford was sold to a friend, my half of the 1959 Chevy went to my sister who already owned the other half, and the 1969 Opel stayed with my wife who already… well, you know.
The car came and went in roughly the same condition but deviated from that condition a couple of times along the way. One was when I slid off of a wet road on the way home from work and parked it solidly against a tree. That required a bit of popping and painting in a body shop.
Then there was the Joni Mitchell incident. A friend and I were headed to her concert in Oxford, Ohio. While stopped in a line of traffic leading to a parking lot we noticed a cloud of smoke from — we thought — the car ahead of us. When that car moved on and I attempted to follow, there was more smoke but no motion. In time we realized that the lack of motion, the racing engine, and the billowing cloud were all connected. We later learned that a hole had opened between the radiator and a transmission cooler mounted below it. The two different liquids attempted to change places and a goodly amount of each quickly escaped. The transmission stopped transmitting.
We somehow got a wrecker to tow the car to a nearby garage. There was nothing to be gained by hanging out at the garage and the friendly tow truck driver agreed to deliver us to the entrance of the concert hall. While we enjoyed the show, we managed to line up a ride home. After a few days and several telephone calls, I hitchhiked back to Oxford to get the car. While dramatic, things were not as bad as I feared. A little water may have entered the transmission but most of the errant flow went the other way. The transmission was undamaged and a flush and fill brought it back to life. A junkyard radiator replaced the one that caused the problem. The blow to my budget was painful but it could have been so much worse. If only that big tow truck had been yellow.