The year in numbers with 2014 values in parentheses:
9 (7) = Road trips reported
77 (80) = Blog posts
59 (77) = Days on the road
1926 (1972) = Pictures posted — 490 (384) in the blog and 1436 (1588) in Road Trips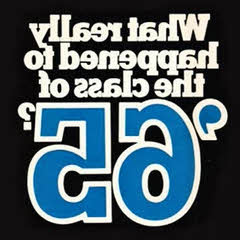 I made a couple more trips this year than last but they were shorter and resulted in less total days on the road. That naturally caused a slight drop in pictures posted to the journal but pictures in the blog increased so that there was not a significant change in the total number of new pictures. In addition to the 52 regular weekly blog posts, there were 14 reviews, 9 road trip links, and 2 miscellaneous asynchronous posts which adds up to just three less blog posts than last year. Three of the new blog posts generated enough traffic to make the top five. The most popular new blog post concerned a little ol' high school reunion. Once again there were no new posts in the non-blog top five.
Top Blog Posts:
Top Non-Blog Posts:
Overall visits to the website dropped and dropped dramatically in 2015. The 248,033 visits of 2014 fell to 113,142 last year and page views fell from 741,404 to 462,171. Blog views rose from 8,062 to 9191. That massive 54% drop in the number of visits is scary. Annual traffic counts have dropped before but not to that degree.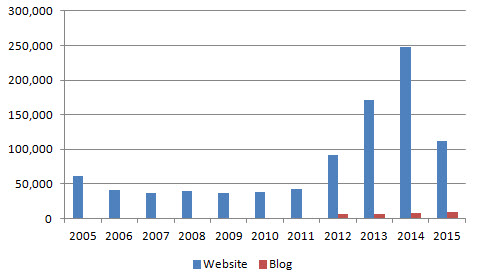 So what's that mean? One possibility is that a change in the way statistics are compiled or visits detected resulted in an artificial drop in the numbers and I can produce some arguments both for and against that theory. The "for" ones are the weakest. What seems more likely and less palatable is that the numbers don't lie and readership has truly plummeted. Jim Grey, a friend and popular blogger, recently posted an article he called Welcome to the post-blog era. In it he discusses perceived changes in visitors and their engagement. Jim is not really suggesting that his own blog is dead. 2015 was the busiest yet for him. (Note that my own blog's visits increased 14% last year. It is overall website visits that have tumbled.) What he is suggesting is that the internet landscape has changed and blogs, specifically independent personal blogs, are not at all the big players they once were. Maybe independent anythings, including road trip journals, aren't big players any more. Not that this one ever was. It will, however continue to be the same small player it always has been.