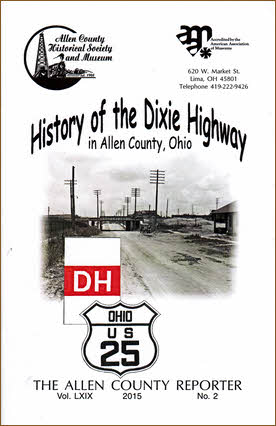 I could have called this a pamphlet review. That's technically what it is. Or, since one definition of pamphlet is "a small book", I could have called this a small book review. I decided to leave the title be but, in line with the publication's size, I'll try to be brief and do a small small book review.
Michael Buettner is a past president of the Ohio Lincoln Highway League. He has written several articles on the Lincoln Highway and other historic roads. This pamphlet, which he wrote for the Allen County Historical Society, draws from his 2006 article In Search of…The Dixie Highway in Ohio but only slightly. In contains details, plus maps and photos, that do not appear in the earlier article. An increased level of detail comes rather natural when the focus is on a county rather than a state.
The first several pages provide some early Dixie Highway history as it relates to the full ten state system, to the state of Ohio, and to the route in Allen County. Instructions for two driving tours follow. Both originate in the county seat of Lima. The first goes north to the county line and the other goes south. Descriptions and photos of points of interest accompany the turn-by-turn instructions.
When the U.S. Numbered Highways came into being in 1926, Allen County's share of the Dixie Highway was essentially absorbed by US 25. I-75 subsequently absorbed much of US 25 and replaced all of it. A series of maps helps describe this sequence.
History of the Dixie Highway in Allen County, Ohio, Michael G Buettner, Allen County Historical Society, November 2015, 8.5×5.5 inches, 40 pages, available for $6 at the Allen County Museum