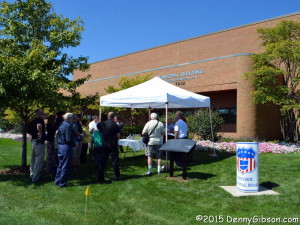 This is the elsewhere I was referring to when mentioning that I couldn't be On the Waterfront Wednesday. The Ohio National Road Association unveiled three new interpretive panels this week but this it the only one of the events I was able to attend. That was lucky in one sense as both an interpretive panel and a new mile marker were unveiled in Reynoldsburg on Wednesday. By the time the speeches began, the crowd had grown to about twice the size of the group in the photo.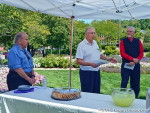 That's Reynoldsburg-Truro Historical Society Vice President Dick Barrett speaking in the photo at left. Mike Peppe, on Dick's right, and Dean Ringle, on his left, had already delivered short speeches as had Reynoldburg Mayor Brad McCloud. Mike is Chairman of the Ohio National Road Association Signage Committee and Dean heads up the ONRA's Mile Marker Project. Dean is also a former president of the ONRA.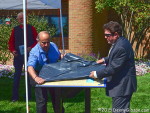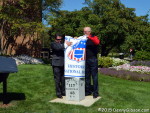 Mayor McCloud assisted Dean in lifting the cover from the new mile marker then helped Mike unwrap the new panel. This is the sixth of ten new mile markers being installed where the originals are missing or too much deteriorated to be repaired. The ONRA's website lists twenty-five interpretive panels but the most recently listed is over a year old. I believe Mike stated this was the sixty-third.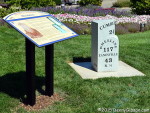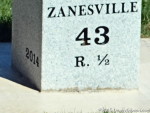 The original National Road mile markers in Ohio were made of sandstone, limestone, or even an early form of concrete. The new ones are white granite. The new markers duplicate the originals in terms of size, shape, and the information on their face. To distinguish the new from the old, the new markers have the year 2014 carved low on their backs.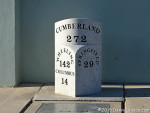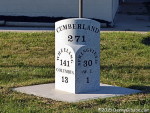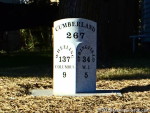 While chatting with Dean after the unveiling, I realized that it would be possible to pass all of the other five granite markers without going terribly out of my way as I drove home. I set out to do just that but got off to a horrible start. The first I would pass was also the first installed. Mile marker 260 had been put in place in December. I already knew that and had halfheartedly looked for it on a previous visit to Columbus. I had not found it but wasn't very confident that I was looking in the right place so wasn't at all concerned. This time I was pretty sure I was looking in the right place but still did not see it. I even, despite the rush hour traffic, made two passes. The next one, 264, I spotted but got no photograph. Now the traffic convinced me save a retry for another day. As you can see, I had better luck with the remaining three. In reality, it probably wasn't luck at all but the fact that reduced traffic allowed me to actually look.