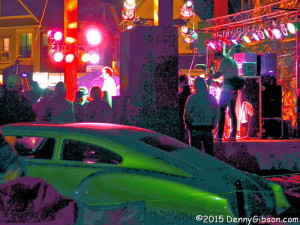 Released in the summer of 1965, the McCoys' version of Hang on Sloopy reached #1 on October 2. A week later, the Ohio State Marching Band performed the song for the first time and, twenty years after that, the Ohio General Assembly adopted it as the state's official rock song. This last summer, as the song's 50th birthday approached, the Rolling Stones did a snippet of it during their concert in OSU's Ohio Stadium. On Saturday, Rick Derringer (nee Zehringer), the McCoy's guitarist and lead singer performed the hit with his current trio and the full Ohio State Marching Band. Following that, the trio rushed to the singer's home town for a dinner and concert. I was there for the concert.
The concert was part of the second annual Union City Arts Festival. It filled the nicely restored train depot and a new park, along with the area between them. A number of food vendors augmented the many arts and crafts booths. The nearby downtown area joined in and the local museum, which has a permanent display of a few McCoys related items, hosted a memorabilia collection assembled by Rick's cousin, Mike Zehringer.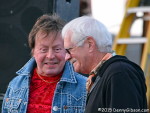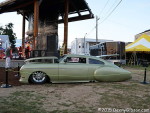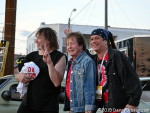 After their dinner, which quite a few fans had paid to attend, the band moved to the stage area and poised for a few pictures with the fantastic 1950 Chevrolet parked there. The car is the creation of original McCoys organist Ronnie Brandon and Rick and Ronnie were soon catching up and also posing for a few shots with the car.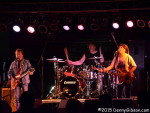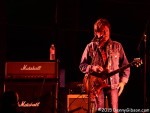 The band opened with a Christianized version of Still Alive and Well then delivered a hard driving two hour show with songs from throughout Derringer's career. Frankenstein, Free Ride, Real American, and Rock and Roll Hoochie Koo were all played.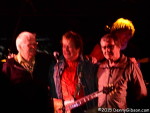 The song that started it all, Hang on Sloopy, was a special moment with all three surviving McCoys on stage. Keyboardist Ronnie Brandon and the band had parted ways in 1967. Drummer Randy Zehringer (Rick's brother) developed encephalitis and had quit playing by the early 1970s. Bassist Randy Jo Hobbs died of drug related causes in 1993. I apologize for the blurred picture of Ronnie, Rick, and Randy but it's the best I have. I got no picture of Randy singing (he did not attempt to play drums) and only a fuzzy one of Ronnie at the organ.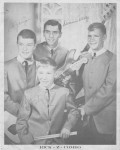 Here is a much clearer though somewhat older photo of the three McCoys. It is from sometime around 1964. The bass player in the photo is Dennis Kelly who was replaced by Randy Hobbs when college called.