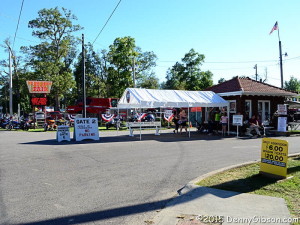 Once upon a time, all of Ohio's county fairs preceded the state fair but not anymore. In fact, only 29 of the 88 opened their gates before those of the biggie in Columbus this year. When I attended the state fair a few weeks ago, I mentioned that I make it to the fair in my original home county from time to time. This year I made it to The Great Darke County Fair on Monday which is, among other things, Senior Citizens Day. It's a day when folks over 60 or under 12 and ministers of any age get in free. Yes, I am cheap.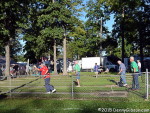 Darke County is the Horseshoe Pitching Capital of the World so finding a tournament in progress wasn't much of a surprise. Some of these guys can throw more consecutive ringers than I can take consecutive steps without tripping.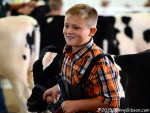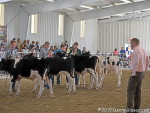 It's another sort of competition that is at the heart of all fairs and I got to see just a little of the Junior Fair Dairy Show. I believe the fellow in the second picture placed third and he couldn't have been happier.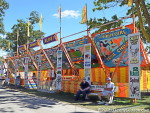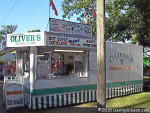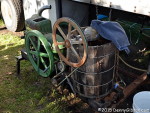 I hate to knock the Ohio State Fair but the only "amazing creatures" I saw there were "The World's Smallest Woman" and "Snake Girl". The Great Darke County Fair has a whole menagerie plus a giant horse. Of course, the midway also had plenty of games, rides, and food. The pictured food stand certainly isn't the flashiest or exotic. I'm including it for personal reasons. I have a real weakness for ice cream made the old-fashioned way in a mixer cranked by an old hit-or-miss engine. Doubly so on an apple dumpling.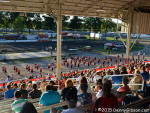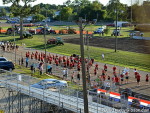 When I saw that this was the day of the High School Marching Band Spectacular, I decided to hang around to see the band from my old school. I got there just a little late and missed one band. It took me awhile but I eventually figured out that the band I had missed was my old school, Ansonia. I still enjoyed the show.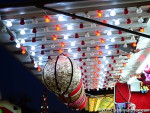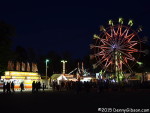 Even though I get back to the fair every few years, it's been quite a while since I've seen a dark Darke County Fair. I probably should have stayed around to ride to the top of that Ferris wheel but it was getting chilly and I was ready to head home.
---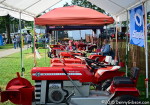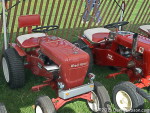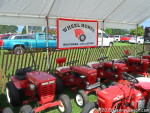 I visited fair grounds again on Thursday but it wasn't for a fair. It was for the Tri-State Gas Engine and Tractor Association's 50th Antique Engine & Tractor Show on the Jay County Fair Grounds in Portland, Indiana. Terry, a long time friend who collects Wheel Horses, has exhibited at the show for many years. Dale, another long time friend, lives reasonably close and has attended the show on several occasions. This was my first time but I knew I'd be in good hands. I arrived a few minutes ahead of Dale which gave me a chance to snap a few pictures of Terry (on left in third picture) and his tractors. The Massey-Ferguson and Simplicities in the foreground belong to Terry's brother, Joe.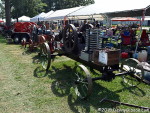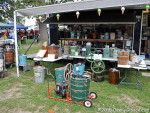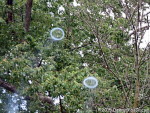 As expected, there was no shortage of gas engines including plenty of the hit and miss variety. A sizable percentage were not running and probably couldn't without considerable effort while others were hard at work doing things like making (or at least pretending to make) ice cream. Some were running but were just relaxing and blowing smoke rings. One display prompted me to attempt a rare video to show one solution to the aggravation of having an engine that works and a console TV that doesn't.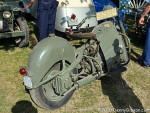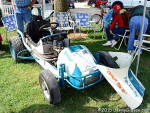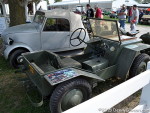 I would quickly discover that the show contained about as many things that I had not anticipated as those that I had. Maybe I should have expected this display of unusual Crosley vehicles, Terry had shown me a photo of the motorcycle from a previous year's show, but I didn't. Some, like the motorcycle, are factory prototypes while others, such as the first open-wheeled Crosley-powered racer I've ever seen, were aftermarket customs.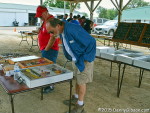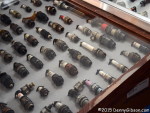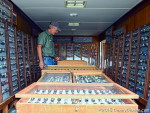 This would have been completely unexpected if I hadn't heard the announcer mention it over the PA. As soon as I heard the phrase "spark plug collector" I knew it was a hobby as natural — and as endless — as postcard collecting. I was thinking only of the multitude of brands and sizes but soon discovered that there were variations I had never dreamed of. Some early designs had an opening which allowed cylinders to be primed with fuel. Others had two connectors to support both coil and magneto ignitions. There were a variety of multi-piece designs that could be used to fashion quick disconnect plugs so that fouled electrodes could be changed during racing pit stops. Besides being surprised but the many wild plug designs, I was somewhat surprised that Terry and Dale (in the first photo) were almost as unfamiliar with them as I was — but I didn't let it show.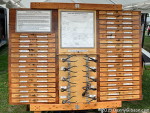 We all learned something here, too. At first I thought it was showing different types of fencing like some barbed wire displays I have seen. Then I thought it might be showing different methods of splicing pieces of wire. The truth was so much better. These are variations of Check Row Planter Wires which were first patented more than 160 years ago. The wires were stretched across a field and carefully placed "buttons" would trigger the dropping of seeds from a sled pulled along their length. A slightly more readable copy of the explanatory placard is here.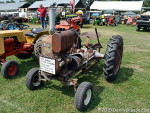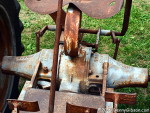 Almost everyone knows about Gibson guitars, greeting cards, wines, appliances, and other items but I doubt many know about Gibson tractors. I didn't. Produced between 1946 and 1952, internet searches indicate that the tractors were made in Colorado although the company was based in Seattle, Washington. This was an at least rare, if not unique, instance where one 1947 model Gibson took a photograph of another.
---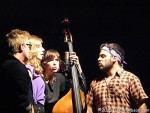 Oh, and one more thing. In between the cows and the tractors, I went to a concert at The Southgate House Revival. Tuesday marked my second time seeing Lake Street Dive. As part of his introduction, WNKU's Ken Haynes asked how many had also attended their only other area appearance and a number of hands, including mine, went up. "Well," he said. "They're two years better." He was off a little on the calculation (That show was March 4, 2014.) but right on regarding the better and they were fantastic the first time around.