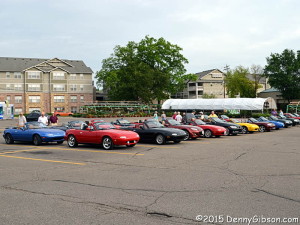 I became a Mazda Miata owner in May of last year and joined the Greater Cincinnati Miata Club almost immediately. I was a member in time for the club's 2014 Ault Park Concours d'Elegance outing but missed it because I was already on the way to the Lincoln Highway Association conference in Tooele, Utah. I attended a couple of meetings during the year but other activities kept me away from club outings until the concours rolled around again. This year my friend Clyde and I were able to meetup with another twenty GCMC Miatas plus seven more from the Dayton area Miami Valley Miata Club for a colorful caravan to the June 14 show.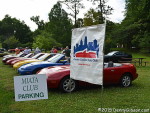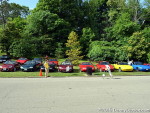 Benefits of attending with the club include discounted admission and a group parking area very near the main entrance. Everyone arrived pretty much on time, we departed on schedule, and cruised to the park without incident. Hmmm… Wonder if that's typical Miata behavior. As a result, we had time to spare before the gates opened.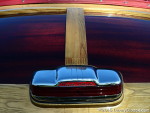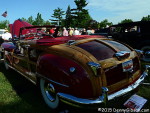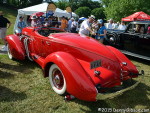 There were ten "must see"s identified in the program and — due to show layout and not our careful planning — we saw two of them almost immediately. The bright red beauty is a 1936 Auburn 852 Boattail Speedster. The 1947 Chyrsler Town & Country Convertible not only has wood trim but there is wood veneer on the metal trunk panels. The Chyrsler and I are the same age but it sure looks a lot better than I do.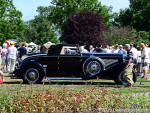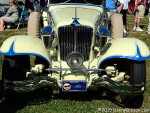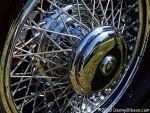 I was hardly diligent in either my picture taking or in identifying what it was that I did take pictures of. The imposing black car is a Duesenberg though I don't know what year or model. Likewise, I know the yellow car is a Cord but that's about it. I don't even recall the make of the car that the pictured wheel belongs to. I believe it was one of two spares and there were four identical wheels on the ground. There were many other cars with a half dozen spoked wheels as well as some with five or four. I took the picture of the wheel because it was while looking at it gleam that I was struck by just how much spoke polishing a concours requires.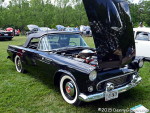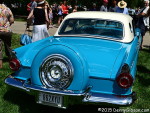 This year's featured marque was Mercedes-Benz but 70 years of the Volkswagen Beetle and 60 years of the Ford Thunderbird were also being celebrated. One of those ten "must see"s was a 1963 Thunderbird Landau Tri-Power. We saw it but I didn't photograph it. I actually like the 1961-63 "bullet birds" better than many of the nameplate's wildly different incarnations but I've included photos of a couple of pre-rearseated T-Birds to show that in the beginning it really was a cool car.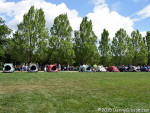 We walked by a long line of Beetles and even stopped to look over one or two but I took no pictures. I guess these cars, including the 1956 Type 1 Sedan listed among the "must see"s, were just too familiar to snag our attention. It was only after we had reversed course at the end of the field and were headed back toward the cluster of Mercedes-Benz on the other side that I grabbed this shot of the line on Volkswagen rears. Maybe I was already feeling a little guilty about not studying them more closely. I know that I did feel some regret when I scanned through my pictures and realized how little time we had spent on that line of iconic people haulers.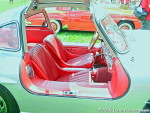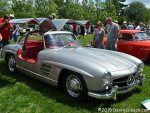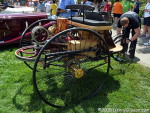 These are the head-liners. It was 130 years ago, in 1885, that Karl Benz built the three-wheeled "motor car" for which he would be granted a patent the following year. This is a replica. Because of its unusual "gull wing" doors, the 300 SL Coupe is probably the most recognizable Mercedes in the world. It was the car's lightweight tubular space-frame that made the top-hinged doors and super wide threshold necessary. This 1954 model was another of the show's "must see"s.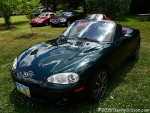 Due to the special parking arrangements and the desire to do a little parading, our arrival time had been fixed. Viewing the show and departure were "on your own". It was a little before 2:00 when we got back to where we'd parked and I was kind of surprised to see that, despite our short-circuiting of the Beetles, my little car was among the last of its breed in the area. We settled into the non-optional heated seats and there was soon one less Miata in the park.