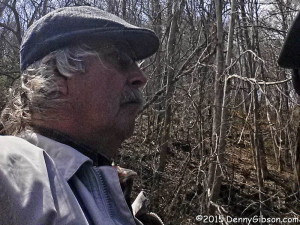 The Findlay Market Opening Day Parade was a full thirty hours away and my birthday had barely begun when last week's post went up. Here's an update.
Last Sunday was a long way from blisteringly hot but it was reasonably warm (60s), dry, and sunny. I spent much of the day driving a familiar loop along the banks of the Ohio River. I haven't decided whether or not the new chapeau is a keeper but I got it for almost nothing with an about to expire credit and I'm going to give it a chance.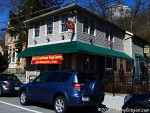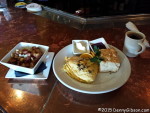 Breakfast was had at Brew River Gastropub in Cincinnati. Even though I cringe at the word "gastropub", I'd stopped in here one night for beer and live music and decided it was OK. It's location on Riverside Drive and a reputation for a  good Sunday brunch made it a reasonable choice for a place to start the day. My Easter eggs came in what is essentially an omelette known as "Eggs Du Drop". It was quite good with house-made goetta, Irish Cheddar, and green onions. From there it was east along the river's north bank, a crossing at Maysville, and a return to Cincinnati on the Kentucky side.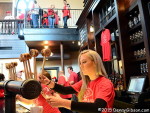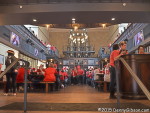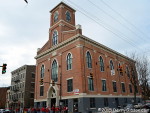 On Monday I parked near Arnold's with the intention of having breakfast there as I did last year but it was simply too crowded. Instead, I stopped in at the Sports Page Restaurant for another helping of geotta. That made timing just about perfect for a one beer test of Cincinnati's newest brewery. Taft's Ale House had planned to open last fall but, when construction surprises made that impossible, decided to open in sync with the Reds. Today was the official grand opening and, while they didn't make enough to cover their $8 million investment, they got a good start.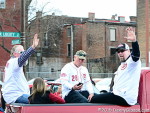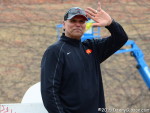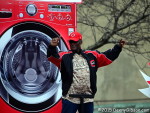 I had time to snoop around the staging area a bit then found myself a good spot just a few blocks into the route as the parade started. This year's Grand Marshalls were the Nasty Boys from the 1990 World Champion Reds. Relievers Norm Charlton, Randy Myers, and Rob Dibble had a combined 44 saves as the Reds stayed in first place for the entire season. Other local sports figures were also on hand including the only Bengal in the NFL Hall of Fame (Anthony Munoz) and a key piece of the Big Red Machine (George Foster).








Here are more parade entries that are uniquely Cincinnati starting with some currently active athletes, the Cincinnati Roller Girls. Next is a float from current Cincinnati success story Pure Romance and a car from one time Cincinnati powerhouse Crosley Corporation. In about a month, a new carousel will be put into operation on Cincinnati's riverfront and a few of the custom made figures filled a parade float. From a little to Cincinnati's west comes the Rabbit Hash General Store and from the east comes the Cardboard Boat Museum. In the race for Most Flamboyant Cincinnatian, Bootsy Collins might edge out Jim Tarbell by a little bit but neither has been called a wallflower.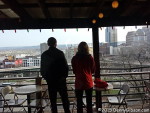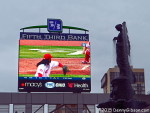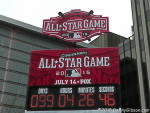 I guess the closest I got to Great American Ball Park was Fountain Square and even the tail of the parade had passed by the time I got there. Cincinnati will be hosting this year's All-Star Game and a count down sign was unveiled yesterday. I grabbed a shot of that and watched some of the game on the big screen before heading up to the City View for dinner and the rest of the game. Dinner was a 'burger and the game was a rain delayed win for the Reds. The stadium can be partially seen from the bar. The wisp of smoke visible between the couple on the deck is from the win signalling fireworks.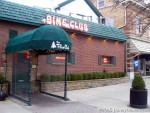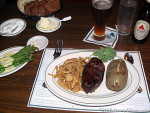 The game was over but the birthday celebration had a couple more days to run. Ovenmaster Mary brought peanut butter brownies to Tuesday's trivia gathering for some low-key great-taste celebrating. On Wednesday, I headed north to Dayton. Last year I finally experienced what many consider Cincinnati's premier steakhouse, the Precinct. At that time, I stated that a steak I'd had at Dayton's Pine Club remained a contender for "best ever". I noted that more research was needed and tonight I went back for that research. The trip was infinitely worthwhile but it didn't exactly lead to a decision. I'd ordered that Precinct steak with options while my Pine Club cut was unadorned. I had a mild sense of being slightly more impressed with the Precinct meal but realized that might be the crab meat and Béarnaise talking. Both filets were superb. In the end, I decided that debating the merits of steaks at this level or price point is like debating whether a lily looks better with silver or gold gilding. The two restaurants are different but no meat eater with functioning taste buds would be disappointed with either.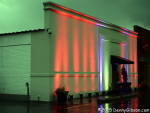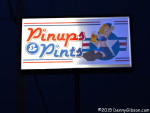 I made one more stop for birthday week. Pinups & Pints, "The World's Only Strip Club – Brew Pub", is just a few miles northeast of Dayton and I have, duh, wanted to go there ever since I first heard about it. The problem has been that I'm hardly ever in Dayton in the evening with free time and that's when Pinups & Pints tends to be open. The brewery operation is an almost tiny fifteen gallon system and only a single rotating brew is available. At present, that's Thigh High IPA which was, although IPAs are not my first choice, quite good for the style. Even though there's no doubt that the brewery is something of a gimmick, it's definitely not a joke. Owner/brewmaster Scott Conrad is serious about it and puts in the effort required to produce a quality product. I had intended to have just one beer but the dancers were attractive enough to make me order a second. Although two beers wasn't enough to make the reasonably pretty dancers drop dead gorgeous, a few more might. Nearly naked women that make you want another beer that makes the women prettier which makes the beer taste better which makes the… I think Conrad might be onto something.