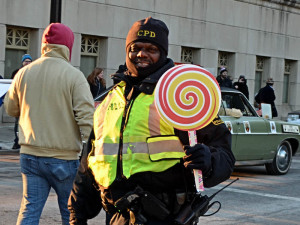 I stole the title. There's a music store in Greenville, Ohio, called Bach to Rock which I think is the coolest name for a music store ever. On Friday, I followed up the 23rd annual Bockfest parade with a Dave & Phil Alvin concert. Voila! Fits like a glove.
While looking up the music store's web address, I discovered that there is now a bunch of franchised music schools called Bach to Rock. They started in 2007 and the store has been around a lot longer than that. The store could probably sue the school but I doubt they will. We Darke Countians are a mellow lot.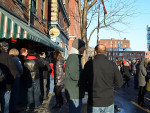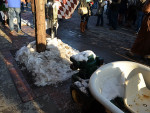 The sun was shining — at a very low angle — as the parade "formed" on 8th Street near Arnold's . Perhaps words like "formed" and "organized" are a little out of place when applied to the Bockfest Parade but it somehow happens. This year both marchers and watchers were plentiful despite the temperature being right at the freezing mark. Or maybe it was because of the temperature. WE ARE READY FOR SPRING.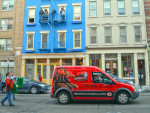 Another word, "irreverent", has always applied to the Bockfest parade. That definitely won't be changing for the event in general but it does no longer apply to one major piece of the parade. Previous grand marshals have included the likes of the four-legged mayor (It's a dog, don't you know?) of Rabbit Hash, Kentucky, but henceforth, in recognition of the serious celebration of Cincinnati's past underlying this event, the organizers will select grand marshals for their "contribution to local culture". This year's choice is Elmer Hensler, founder and President of Queen City Sausage. The company is turning fifty this year. With honesty and quality, Elmer built it from nothing to being the official brat and mett of both the Reds and the Bengals and the last surviving meat packer in what was once Porkopolis. This year, the company's bockwurst can be had wrapped in a Servatii (another Cincinnati favorite) pretzel as the Bockfest Pretzelator.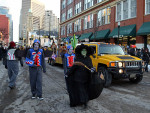 I really liked this Wizard of Oz themed group and walked a few steps with them so I could ask who they were. The first person I asked answered "Mustard Club" then, when I said something like "What's that?", turned me over to another marcher who explained they were from Mecklenburg Gardens, a popular local German restaurant. I later learned that this isn't your run of the mill mustard club that likes just any old mustard. It's the Händlmaier's Mustard Club Cincinnati who go to great lengths to acquire their favorite condiment. If I had an award to give, they would get it because: 1) The Wicked Witch of the West was most convincing when she warned, "I'll get you, my pretty, and your little goat too." 2) There's a bunch of them, from the group leading the yellow Hummer, through Dorthy and friends on the trailer it's towing, to the pack at the back. 3) They covered both mustard and beer in their theme title "Follow the Yellow Bock Road". 4) One of them handed off that giant lollipop to the traffic cop in the picture at the top of the page.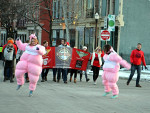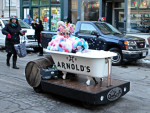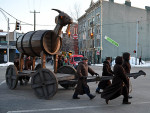 There were familiar entries like the Trojan Goat, Arnold's self propelled bathtub, and the dancing pigs. Arnold's previous tub, which appeared with some snow on it a couple paragraphs back, had some issues at last year's Bockfest and, although it was repaired, I guess it's never been the same. I suppose the new high class ride is more reliable but I still prefer the basic tub and motor style myself.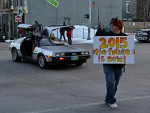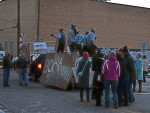 And there were some new themes like Bock to the Future (This is THE year, after all.) and the Bock Street Boys.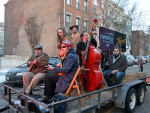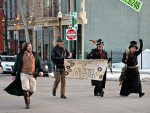 Here are a couple of entries which don't have any really clever bock related names and really don't have any particular bock connection at all but I like 'em. On reason I could not leave out the League of Cincinnati Steampunks is that I'm pretty sure this is the way to melt snow. Lastly is the very talented Buffalo Wabs and the Price Hill Hustle that we last saw here.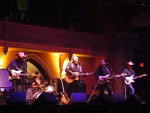 Yeah, I guess there does seem to be a lot more bock than rock but it was really good rock. Dave Alvin and his brother Phil, both formerly with the Blasters, are currently touring together and they deliver one tremendous load of music. I wish I'd seen them years ago but I'm sure happy that I've seen them now.