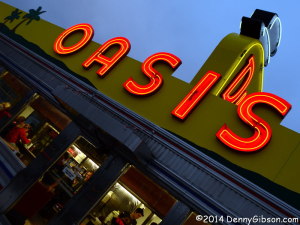 The Oasis Diner is back. It isn't a "high place" in either price range or pretensions but neither is it a "low place". I want to make that last point crystal clear because I met some friends there Saturday and I'm guessing it would be easy for Garth Brooks fans to get the wrong idea. These are classy friends and the Oasis is a classy place.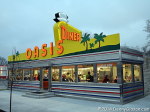 Created in 1954 at the Mountain View Diners Company in New Jersey, the diner immediately traveled west to spend the next sixty years on the north side of US 40, a.k.a. the National Road, in Plainfield, Indiana. There were good and not so good times and a temporary closure or two. In 2009, structural and health department issues resulted in it being closed "permanently". Permanently, that is, for that location. Earlier this year, the original factory built part of the restaurant was moved across the road and about four miles further west where major effort went into getting it ready to reopen in November. The "DINER" and coffee cup were restored. The entire "OASIS" panel was fabricated anew to duplicate the long lost original.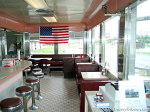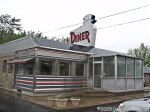 My first experience with the diner was in 2005 when I met friends Pat and Jennifer Bremer there for breakfast. At that point the Oasis sign had been gone for years and it was known as simply "The Diner" or "The US 40 Diner". The interior picture is from a 2008 stop with Pat. That's when I got to try the famous tenderloin sandwich.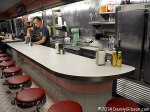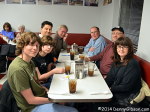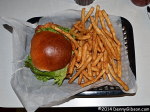 When a firm and imminent opening date was announced, I made an online comment about a visit. The comment targeted the Bremers and a couple of other fans of old roads and the stuff beside them. Within a day or two, plans were in place for a gathering at the Oasis and on Saturday it happened. From left to right we are Damion, Garret, & Jim Grey, me, Dean Kennedy, and Pat & Jennifer Bremer. We had all heard mixed reviews that included some downright negative reports on service. The young wait staff is admittedly unpolished but we experienced no problems at all and we all gave the food (Yes, that's a pork tenderloin next to those fresh-cut fries.) a big thumbs up. The school aged kids waiting tables and the unfavorable comments some customers have made about them made me think of the Rock Cafe on Route 66. Wait staff there is often young (some family members, some not) and their lack of poise and polish has been mentioned negatively in a few reviews. I think it's great that they're getting some work experience without wearing a corporate uniform.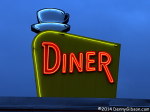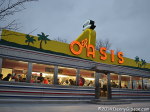 It certainly looks like Plainfield is happy to have its diner back. It has reportedly been at least as busy as when we were there since it opened. In fact, after just a few days, the owners announced they would be closing between 2:00 and 4:00 each day to recover from the lunch crowd before the dinner crowd hit. There can be little doubt that the sometimes overwhelming crowds have contributed to the service issues some have reported. Of course, this is exactly the sort of place that the group I was with looks for and it would be fair to say that we might be more inclined than others to overlook missteps in a place like this and probably more inclined to overlook them in a diner setting than elsewhere. But the truth is, we really didn't have any to overlook. I'm happy that the Oasis is back and I'm extra happy to see the palm trees and the big OASIS fronting the place again. I'll be back and look forward to washing down breakfast with a cup of that coffee advertised atop the building in neon.