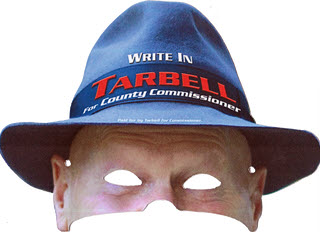 According to this blog's "About" page, it may contain "just about anything other than politics or religion". This post is a clear violation of that description but I feel it's a fairly minor one and I'm hoping that it is one that can be forgiven. There is no question that Jim Tarbell is a politician but he is a lot more than that and Tuesday's "Taste of Tarbell", the event that marked the start of his campaign for Hamilton County Commissioner, seemed to be more than a political fundraiser.
Jim Tarbell has been a member of Cincinnati's City Council and has owned two Cincinnati legends, Ludlow Garage and Arnold's, on the way to becoming one himself. He lost a 2010 bid for a county commission seat and his late decision to run this year forces him to do it as a write-in. Specific reasons for the decision can be easily learned elsewhere. They are not the reasons I attended the campaign launch. I attended because Jim is someone who loves Cincinnati and Hamilton County and who I think will do his best to do what is right for them. That and the fact that it was a darned good party.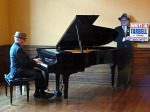 The Comet Bluegrass All Stars were nearing the end of their set when I arrived and I caught just the last few notes of something that Katie Laur was singing with them. They did one more song but I was chatting through most of it and got no pictures. There was a cash bar and a pair of impressive layouts of a great variety of food brought in by friends. That encouraged mingling and chatting and it wasn't until Ricky Nye, who I'd been doing a fair amount of that chatting with, sat down to play that I got my first picture.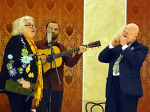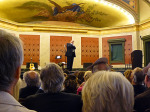 Though I missed the actual announcement, I picked up on the migration and asked enough questions to learn that everyone was wanted in the main hall for a photo shoot. Several photos were taken of the mass of people, including me, wearing masks like the one shown at the top of the article. After that, Jim delivered some speechifying and a little harmonica playing. A tune with Katie Laur was planned and she joined Jim at what seemed like the right time but Jim wasn't quite done talking. It was not an outrageously long speech but, after a couple of minutes, Linford Detweiler got the biggest laugh of the night when he brought out a chair for Laur. At the proper time, Brad Meinerding joined Jim and Katie for The Tennessee Waltz which, as Jim explained, was apropos of nothing but "we like it".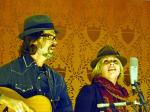 With that, Jim and about half the crowd headed back downstairs for more mingling while those that remained were treated to a rather intimate performance from Over the Rhine. Meinerding stayed on stage to help Linford  and Karin perform about a half dozen songs beginning with Meet Me at the Edge of the World.