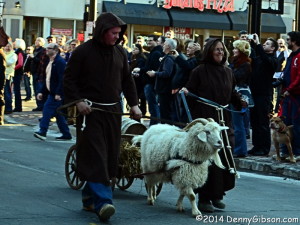 When I attended my first Cincinnati Bockfest in 2010, I bemoaned the fact that I'd missed the previous eighteen which implied I intended to be a more regular attendee in the future. I have not done well. I made it back and had a blast in 2011. In 2012, I was out of town for a Missouri road trip. Last year I was actually downtown with good intentions but turned back home when moisture and the temperature both kept falling. I remember thinking "I'm too old for this" as I made my decision. That could be be a sign that I've grown wise but is more likely a sign I've grown wimpy.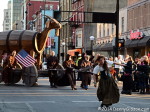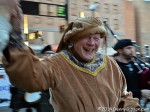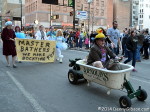 Clear skies and 59 degrees — up 21 from the previous Friday — made attending this year's event a no-brainer. Schnitzel the goat leads things off with the ceremonial first keg then it's the Lady with the Whip (a personal favorite) and the Goat with the Glowing Eyes (a.k.a. the Trojan Goat). Cincy legend Jim Tarbell is usually one of the parade's leaders but apparently missed his cue this year. He hurried toward the front occasionally breaking into a jog and high-fiving fans all the way. Among other claims to fame, Jim was the owner of Arnold's, Cincinnati's oldest bar and parade starting point, when Bockfest was born. The self-propelled bathtub is a reminder of the claw-foot tub that still sits on the bar's second floor and may or may not have been used to produce gin during prohibition.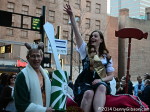 A somewhat sad fact about the life of a Sausage Queen is that her biggest moment, waving to cheering subjects while riding an eight foot sausage, takes place just one day before a new queen is selected. Queen Emily Berger handled her parade obligations splendidly during this last full day of her reign.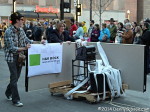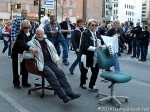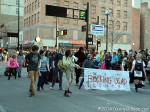 There is just one requirement for parade entries but it is rigidly enforced. You absolutely must be present to participate. No exceptions.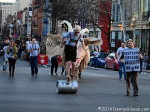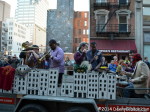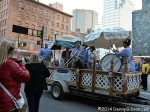 Musical offerings included polkas from the Zinzinnati Beirband ("The more you drink, the better we sound."), excellent Dixieland from an unknown-to-me band, and the gentle sound of aluminum on asphalt. It's only rolling bock but I like it.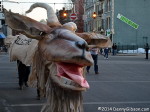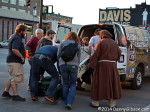 Here's a better look at the dragon/goat behind the barrel walker in the previous photo plus a picture of the only parade casualty I am aware of. That motorized bathtub from Arnold's lost a front wheel but was rescued when Triple Digit Brewing's van came along. Paraders and spectators, which are essentially the same thing, stepped up to hoist the tub into the back of the van for a ride home. I passed by Arnold's later in the evening and saw the tub back in its normal parking spot. I'm confident it will be mobile in no time.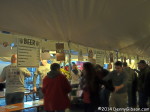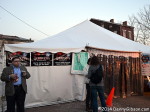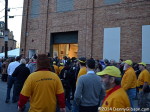 The first picture is of people, at parade's end, attempting to get inside a packed Bockfest Hall (a.k.a. Christian Moerlein Taproom). I took one look and didn't even try. A large tent had been set up across the street and that's where I headed. It looked to me as if most, if not all, local breweries were represented. I had just one beer, a Hudepohl Festival Bock, in the tent.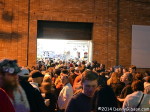 When I stepped out of the tent, the crush at the entrance to Bock Hall had only worsened and the area between Hall and tent was now pretty much full. I ran into a couple of friends and we talked about the crowd and the growth of Bockfest. One of them, unlike me, had been to every previous parade but barely caught the end of this one due to the crowd and parking complications throwing his timing way off. I decided not to even work my way back into the tent but headed back towards the car. Many other bars and restaurants participated in Bockfest this year and those I passed on Main were full with lines outside a couple. This event, helped by spring-like temperatures, was obviously a good thing for area businesses.
It didn't bother me at all that I never got inside Bock Hall. I saw the parade, which is the main event as far as I'm concerned, and I drank a little beer. I had my beer in a tent where melted snow and maybe some spilled brew made a few spots into reminders that I was outdoors but being outdoors was cool. It's what led to this post's frightfully clever title.