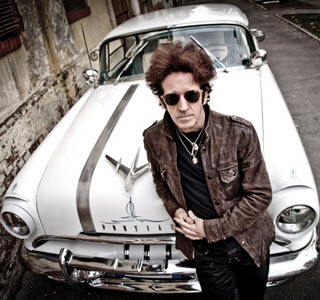 When Willie Nile's American Ride appeared on my road trip oriented radar last spring, I thought his name sounded vaguely familiar but couldn't really connect it with anything. When I later heard a tune, Vagabond Moon, from his 1980 debut album, it, too, sounded vaguely familiar. I probably did hear both the name and the music thirty years ago but I didn't hear it enough or pay enough attention for it to stick with me. I'm now realizing that I am certainly the poorer for that and I'm learning that I'm not alone.
I was pretty happy when I first learned that Willie was coming to the Southgate House Revival in Newport, Kentucky. Then, when I found out it would be on Groundhog Day Eve and my plans for the holiday started to form, Willie's concert got pushed aside. I intended to visit a friend in northern Illinois where another Willie, a groundhog named Woodstock Willie, is the focus of a pretty good party in the town where the movie Groundhog Day was filmed. Then weather forecasts, which turned out to be rather accurate, called for several inches of snow in Illinois and I decided to stay in Ohio which meant I could make the concert and that was a very good thing.
Even after the event was firmly on my agenda, I had no idea that it would compel me to post my first actual concert review. I didn't have a camera with me and, though I could have tried to grab something with my phone, I did not and resorted to a stock publicity shot to start this post. Fortunately, Kirsten O'Connell shared this photo of the show on Willie's Facebook page so you can get a glimpse of how things looked.
Thinking I would not be be going, I did no research and had no idea what to expect. I thought it quite possible that it would be a solo show with just Willie and a guitar. Boy, was that ever wrong. Willie took the stage with a topnotch high-powered 4-piece that blew me and the rest of the packed Revival Room away.
There are three performance spaces at SGHR. The Sanctuary is the biggest and there is a stage in the smallish Lounge. The Revival Room is a mid-sized place on the second floor. Yes, SGHR is a re-purposed church; the 1866 Grace Methodist Episcopal Church. How they resisted calling the upstairs venue The Upper Room, I'll never know. I've seen a few shows in the Sanctuary and a couple in the Lounge. This was my first time in the Revival Room and it instantly became my favorite. It held forty-eight folding chairs. There would have been fifty but the middle of five rows was truncated by support posts. Every seat was filled and another thirty or so people stood at the back and along the walls.
The show was riveting from beginning to end. Despite never having seen Willie Nile before and knowing only a few of the songs, I felt right at home. There was a touch of Springsteen and Dylan and Grahm Parker and Lou Reed and Elvis Costello and other rock 'n' rollers I can't exactly name. But it was all Willie Nile. Willie doesn't bring to mind first tier singer-songwriters because he mimics them but because he is one.
The band was top tier, too. I believe Alex Alexander, who played drums on the American Ride album, has been touring with the group but Larry the Chicago Guy (Sorry, forgot the last name.) is wielding the sticks for a few shows. If that subtracted anything from the performance, it's hard to imagine what. The group was tight and professional. Matt Hogan's guitar solos were impressive without being over indulgent and bassist Johnny Pisano got in his own share of fancy licks — and leaps. Hogan and Pisano both appear on American Ride. In addition to looking good and sounding great, it was obvious that all four musicians were enjoying themselves to the max. Nothing impresses me more than an entertainer having fun while delivering quality.
Things mellowed briefly when Willie sat down at an electric piano — after they found the plug — and the band left the stage. The piano is Willie's first instrument. He performed The Crossing solo then moved onto Love is a Train. One by one, the others returned as the song progressed and before long the train was a rockin'. Apparently a song and a half of mellow is enough for Willie. Other songs I remember were three dedications to musicians the world lost quite recently. Heaven Help The Lonely was dedicated to Phil Everly, One Guitar to Pete Seeger, and a rousing version of Sweet Jane was dedicated to the man who wrote it, Lou Reed. Surprisingly, he did not play American Ride and I did not miss it and I mean that both it not being played and me not missing it were surprises. I don't mean that I did not notice its absence; I mean that the concert seemed full and complete and satisfying without it.
Early on, Willie let it be known that he thought SGHR was a pretty cool place. He also talked of it being his first time in Kentucky until a fan in the front row reminded him of his 1980 gig opening for The Who in Lexington. Willie smiled at the correction and said he intended to be back again before long. I believe him and I'll be waiting.
---
I learned of the song American Ride, first on the radio then in this video, in the week preceding the start of my Lincoln Highway centennial drive. The album had not yet been released but the title song was available as a 99 cent download. I bought the song and had thoughts of it playing as we departed Times Square. I failed at making that happen but, at 7:23 AM on June 22, as we were leaving Manhattan, I did send the following pre-written Tweet:
Leaving New York City with a tank of gas.
Got my bag and my camera, I'm gonna get out fast.
The album was released June 25.