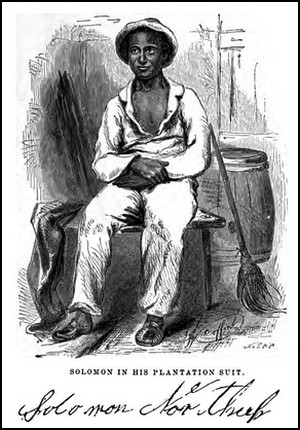 Like most of the world, I had no idea this book even existed before the movie about the New Yorker kidnapped into slavery came out. When I saw the movie, I was moderately less impressed than some but I left the theater with two basic questions: was the book an actual memoir and how close did the movie track it? As I poked around the internet, I encountered no suspicion that either Solomon Northup or the story he told were fiction which made the answer to the first question "yes". I then located a free PDF copy of the book and set out to answer the second question myself. I had my doubts as I read the book's early pages but it became apparent before too long that that answer was "very close".
The real Solomon Northup did not have quite the wealth and social rank that the movie Solomon Northup seems to have. My guess is that's to make his enslavement more shocking and I have no problem with that. Quite a few pages of print are used to establish that Northup had little reason to fear for his safety. On film, fancy clothes and strolls in the park do that more quickly. There are a few cases of the movie combining multiple incidents into a single event or more than one person into a single character but that's a fairly common practice and does no damage to the gist of the story. I might not be crazy about the too long shots of unmoving faces or moss draped trees but I have to say the movie is fairly well done and more than fairly accurate.
But, just as the book didn't become a movie without compromise, neither did Northup's story get to the page completely pure. The book is one of those "as told to" things. In this case, the printed story is as told to and edited by David Wilson. The prose at times becomes more flowery and stilted than how I imagine Northup actually communicated his tale but there is nothing at all wrong with that. That's why professional writers are employed in situations such as this. Wilson's job was to make the story readable and attractive. Did he also alter or embellish things? I can't really say, of course, but my sense is that he did little or none of the former but did slip in some amount of the latter. I suppose that's to be expected since his job also involved making the book successful. That it was; selling 30,000 copies and being considered a best-seller in its day.
About halfway through the book, I thought of posting a review of it. Nothing too serious, as the book was 161 years old, but something as sort of a novelty in the midst of all the bustle around the movie. Then, about three-quarters of the way through, I decided there was something else I needed to do first.
Twelve Years a Slave was published less than a year after Uncle Tom's Cabin, originally a serial, was published as a book. Northup dedicated it to Harriet Beecher Stowe. Thinking that I had not read Uncle Tom's Cabin since high-school, I decided that reading it now was a good idea so that I might compare the two. So I found a free PDF of Stowe's book and soon after I started reading it came to the realization that I had not just gone since high-school without reading the book. I may have read some chopped down "Cliff's Notes" style version and I've seen skits and other portrayals but it was soon obvious to me that I had never read the full original novel. I found myself very impressed with Stowe's writing as well as her story. I found her story quite similar to Northup's or at least to Wilson's recording of it. By the time I finished Uncle Tom's Cabin and got ready to do this review, I was starting to think that Wilson might have taken nearly as much from Stowe as he did from Northup. I was, however, very wrong.
I saw the movie in early December and searched out the free PDF shortly thereafter. Then as now, the search phrase "12 years a slave" yields a list of hits that almost all reference the 2013 movie one way or another. It takes adding "book"  or some other qualifier to get much else. I must have done something like that in December — I did find that PDF somehow — but now there seems to be more. I'm sure there are things that I simply didn't notice before but it's also true that there are new things. One example is a USA Today article that is just a few days old and talks about the recent growth of interest in the original writing that I felt but could not quantify.
One of the things I became aware of only after reading both Twelve Years a Slave and Uncle Tom's Cabin is the work that Dr. Sue Eakin and Dr Joseph Logsdon did in verifying events in Northup's narrative. I shelled out 99 cents for an electronic version of the recently published "enhanced" version of Twelve Years a Slave that includes some of their findings and more. I did not reread Northup's story or even all of the notes but just skimming over them made it evident that the story was firmly anchored in reality. Another real world connection popped up in the search list. An article here tells of the diary of a Union captain who reached the plantation from which Northup was rescued some ten years after that event.
Even with the help of a professional, Twelve Years a Slave is not as well written or easy to read as Uncle Tom's Cabin but the stories they tell are frighteningly similiar. Maybe the totally factual basis of the one compensates for the skill of the other (and neither is poorly written). I'm actually somewhat glad that I was mistaken in believing I had read Stowe's novel decades ago because reading these two back to back made quite an impression on me. The movie is really good and deserving of awards and praise. I'll even offer my own praise for it being a whole lot truer to the book than many I've seen. But, as is very often the case for some of us, the book is better.
Twelve Years a Slave, Solomon Northup through David Wilson, Derby & Miller, 1853, hardcover, 5 x 7.5 inches, 336 pages