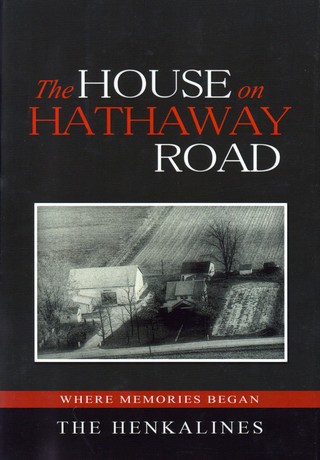 Not only did I graduate from high school smack dab in in the middle of the '60s, it was smack dab in the middle of the Henkalines, too. There were four of them; a girl and three boys. The girl was a few years older than the boys. The oldest boy graduated a year before me and the next a year after. Though I was most familiar with the two boys closest to me in age, I knew them all. It was a small school in a small town in rural Ohio. Everybody knew everybody.
All four siblings contributed to the book. Jack, the guy just a year behind me, got things started in the 1990s by recording remembered stories on his laptop during idle time on business trips. The idea was to provide some personal history to his own children. This was a low priority and sometimes forgotten task until the death of a friend gave Jack a nudge. The friend had long maintained a journal and his widow told Jack how much that helped her and the children deal with the loss. It prompted Jack to return to his recording. In time, the brothers and sister became involved in filling in some blanks and recording their own stories and ultimately producing The House on Hathaway Road.
After introducing their parents and the house they grew up in, each of the four "kids" provides a chapter. Chapters on the final days of the parents and on the next generation follow. A member of that next generation died in an automobile accident in 2007 and there is a chapter dedicated to her. A Henkaline family tree concludes the book.
Jack's original goal, to pass on some history to the next generation, is clearly accomplished and then some. There are certainly items in the book that will be of little interest for non-Henkalines but there are many more that provide glimpses of the 1950s and '60s that almost anyone can enjoy. There are some truly universal memories like 24 cent gas and gathering in front of the TV to watch whatever Dad wanted to watch. The Henkalines even include a chapter titled "Nostalgia" with pictures of things that most people of a certain age will remember. Things like skate keys, TV test patterns, and Burma Shave signs. Other memories might not be exactly universal unless you lived in "the country" in the Midwest. In that case, things like chicks in the mail, laundry day with a wringer washer and "on line" drying, party line telephones, and all-purpose aprons might sound familiar.
One of the stories that Jerry (the guy a year ahead of me) tells might be simply entertaining to most readers but for anyone attending Ansonia High School in 1963 it's a major highlight on the memory reel. Jerry was a starting tackle on the team that broke a 38 game losing streak. I recall a story that newscasters Huntley and Brinkley, who ended most programs with something lighthearted, used our first victory since 1958 as that night's closer. I've never found any documentation for that but Jerry's reporting of an uncle in Oregon who first heard the news on radio indicates there was some national coverage and that the Huntley-Brinkley story could possibly be true. I've always considered my time at AHS to have been excellent preparation for being a Bengals' fan.
The book's dust cover speculates that readers might find themselves saying, "That story reminds me of what happened to me growing up." That's likely true of almost any member of my generation regardless of where that growing up occurred and absolutely true for those of us who grew up within a few miles of Hathaway Road. Those in other generations will still enjoy the book but they might get jealous.
The House on Hathaway Road: Where Memories Began, The Henkalines, Aventine Press, February 18, 2013, hardcover, 9 x 6 inches, 286 pages, ISBN 978-1593308124


Also available on eBay.