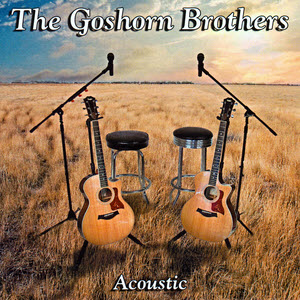 I thought I might never get this posted but I did it and it's not even a year late. It's close, though. The official release of Acoustic, which coincided with Larry Goshorn's "retirement" party, was 349 days ago. I knew the CD was coming and intended to get a copy at the party, then, figuring I'd pick it up in the near future, opted not to stand in line. To be honest, I could have bought the CD without a hassle but I wanted it signed and for that there was a line and I really believed I'd catch the boys performing together in a couple of weeks. If I had known that wouldn't happen for six months, I'd have stood in line.
I got my copy just days before leaving on a month long road trip so that, even though I really liked the album and knew what I wanted to say about it, I had no time. Then, when the trip was over, I had no… Well, I had no excuses. Yes, the main reason this review did not get done during the last four month is because I just kept putting it off each week. When it comes to crastination, I'm a pro.
It seems a curious coincidence that the last music review I did, in March, was for an acoustic album and some of the thoughts I had then are applicable here. That album was Dirk Hamilton's solo mono. and, though it was recorded in a studio, it represented my personal experience with Dirk quite well. Dirk is best known for his work with a full band but that's something I've never seen. With solo mono, I could hear Dirk at home the way I've heard him live.
Larry and Tim Goshorn are also best known for their work with a full band though that's something I've seen a lot. From Larry's early days with Sacred Mushroom, and the time both brothers spent with Pure Prairie League, through various incarnations of the Goshorn Brothers Band. But I've also heard them a lot as an acoustic duo. In recent years, seeing the brothers front a band became something of a special event; Something more likely to be at a festival or a concert than a club gig.
There were club gigs but most were, quite literally, Goshorn Brothers gigs rather than Goshorn Brothers Band gigs. I and plenty of other Cincinnati area music lovers have spent many enjoyable evenings in a small bar or restaurant listening to the two brothers trade off guitar and vocal leads and blend their voices in brotherly harmonies. It's an experience that Acoustic captures pretty darned well but with very little crowd noise and no interruptions from the waiter.
There's nothing new on the CD and I think that's the point; To remind you of an evening you've enjoyed or reproduce part of a pleasant evening for someone who hasn't experienced the real thing. Like a typical Goshorn Brothers set, the CD is heavy on originals with a few covers thrown in. Some of the tunes, like Tim's Just Fly and Larry's Kentucky Moonshine from their Pure Prairie League days, might very well be familiar even to those who haven't seen the brothers performing in a local bar. Others, such as Devil's Due, are more recent and less widely known. Devil's Due is, to me, the CD's standout track. It's a catchy Larry Goshorn tune with some great lyrics and Tim's excellent slide guitar sets it off perfectly.
Recording for the album took place over a few years in a several locations but rumor has it that most if not all of the tracks that made it to the CD are from the recently demolished Twenty Mile House. They all sound good. There is, as mentioned, little crowd noise; Essentially just some applause and cheering between tracks. These guys have been doing this a long time. They know how to get things sounding right for their live performances and this recording captures both voices and both guitars cleanly. "Just like the record", Tim sometimes quips at the end of some familiar song. Acoustic is "just like the club" — without clinking glasses and the noisy couple at the next table.
Acoustic available at Everybody's Records or a Goshorn performance.