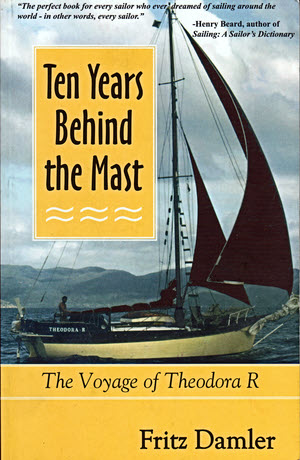 Before I get around to actually talking about this book, I am going to tell how I learned of its existence. I first saw Theodora R, the boat whose mast the author was behind, in July of 2011. I was in Albuquerque, New Mexico, when a friend tipped me off to a nearby museum called Tinkertown. The museum was different than anything I'd ever seen and the boat was different than anything else in the museum. There were similarities, of course, because the same man who created the museum of small items, many hand carved, had also created the signage and other details in the display of the thirty-five foot boat. Then another similarity occurred to me. The unique folk art museum created by Ross Ward represented his "Follow Your Heart" attitude and the boat that Fritz Damler sailed around the world represented that same attitude. Now the boat didn't seem out of place at all.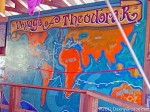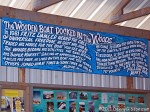 I had chatted with Ross Ward's widow, Carla, when I first arrived and learned just a bit about the man who passed away in 2002. I spoke with her again before leaving and learned that Fritz Damler was her brother and that he now lived in the Bahamas. I can't recall why I didn't buy this book on that first visit. Maybe I was really watching cash flow on the way home from a west coast road trip or maybe I wasn't even aware that it existed. Carla is not much into high pressure sales. I bought it three months ago on my second visit.
Ten Years Behind the Mast was published seven years ago. Fritz Damler completed his circumnavigation fifteen years before that. Maybe taking fifteen years to finish a book about a ten year journey is a little higher than average but it makes me feel less guilty about coming to it seven years later. A friend and I once met a couple who were sailing south along the Americas' east coast. Fritz's publishing — and living — schedule reminds me of something they said often: "If we were in a hurry, we wouldn't be on a sailboat."
You also wouldn't be living on a sailboat without wide ranging skills and the willingness to learn more — sometimes instantly. It isn't too far fetched to believe that Fritz spent his first thirty-two years training for this journey. He was building guitars for a living immediately before acquiring the Theorora R and he was actually well into building his own wooden boat for the trip when he was betrayed by the epoxy he used and it fell apart. Some of his other jobs included paramedic, volunteer fireman, musician, and ski instructor. Each of those, and no doubt others, provided experience and training that served him well on his journey.
His wife was along when the trip started but it turned out she wasn't as keen about living on a thirty-five foot boat as she initially thought and she was nowhere near as keen on sailing around the world as Fritz was. Before long, Fritz was without a wife which also meant he was without a permanent crew. Some of the sailing was done solo but most of it was done with an ever changing cast of characters which are all identified and described to some degree. So too are most, if not all, of the ports where Fritz and Theodora R dropped anchor and many of the people he met in those ports. It is a lot to pack into a couple hundred pages but Damler does a pretty good job of covering the ten years evenly.
There are visits from friends and family and Damler never really loses connection with the USA but he does get up close and sometimes personal with a lot of different cultures. He is able to report that fruit bat, the daily special of a Madagascar restaurant "tastes like sweet chicken". He determined that a small village on New Guinea's Sanaroa Island was the most remote he ever visited with the help of his guitar. It was the only place where not one person showed even a flicker of recognition when he played "House of the Rising Sun". That is remote indeed.
Through lots of little glimpses, Damler provides something of a feel for what cruising through far off waters is like. Theodora R was far from alone in doing this. Apparently a sizable "cruisers" culture exists though not everyone is heading around the world or living aboard full time. It is ever so slightly like the RV culture with distances and degree of isolation cranked up to imagination challenging levels.
This is not a guide book or a how to sail book. It is a story book that tells a true and entertaining story. Damler's writing style makes the reading easy without excess tension or artificial suspense. The final phrase of the back cover blurb sums it up pretty well. "…his story of a decade at sea has it all: Discovery. Heartbreak. Misadventure. Salt."
Ten Years Behind the Mast, Fritz Damler, Jackson Harbor Press, 2006, paperback, 8.4 x 5.5 inches, 211 pages, ISBN 978-1890352202.
---
On my first visit to Tinkertown, seeing and reading about Damler's boat instantly reminded me of one of my favorite Michael McCloud songs, Chasin' the Wind. I quoted from it in the journal entry for that 2011 visit. Here is a little longer quote:
The job got to feel just like an anchor
and that young wife started to roll just like the waves.
So he traded them both for a sturdy old boat
and the one dream that he'd always saved.
And another couple of lines:
Seen most of the world and a few lovely girls
who spent a short time working as the crew.
When I left Tinkertown after the 2013 visit, I had Damler's book in my trunk and McCloud's song in my head. The day after arriving home from that trip I listened to Chasin' the Wind as I drove to meet friends. Before the song was even half over, I had decided where I would be going for Christmas. For several years now, I have made a "Christmas Escape Run" around the year end holidays. I have been to Key West and seen Michael McCloud just twice; Most recently on on my 2008 "Christmas Escape Run". Sometime around Christmas 2013, I intend to be in Key West, Florida, where I can listen to Michael McCloud and at least look at some sailboats.
ADDENDUM 21-Aug-2015: It took a new comment to draw my attention to one I'd missed over a year before and, when that happened, I reread my announcement of firm intentions to head to Key West for Christmas. It didn't happen. It wasn't until Christmas of 2014 that I made it to Key West.