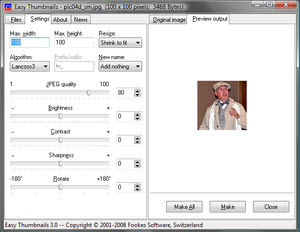 My first attempt at writing this post got all bound up in explaining why I do thumbnails the way I do. As I rearranged the second paragraph for the third or fourth time, I heard my own echo from long ago, "If it's this hard to write, it's going to be a bitch to read." That's usually a pretty good signal that a basic rethink is in order. When I stepped back, I quickly realized two things. One, some of my reasons are truly arbitrary and naturally hard to explain, and two, nobody cares. There aren't many who care if I do something, fewer care how, and the number who care why has to be near zero. If someone does want to know why, just ask and I'll be happy to explain and 'fess up to the arbitrary bits. For now, I'm just going to talk about how I do them and how Easy Thumbnails fits in.
In the very early days I experimented (i.e., thrashed around) but settled down by my fourth trip and subsequent trip journals have used 100 pixel square thumbnails. At first, I just used my graphics editor (PhotoWise or PhotoPlus) to re-size the image after I'd cropped it to the desired area. As my workflow developed, I started doing this as a batch after all the editing was done. When the full sized photo's editing was complete, I would save it, carve out the thumbnail, save it, then move on to the next picture. Once a page's photos were done, I would change some settings and scrunch all the thumbnails in a single pass. Then I came upon Fooke Software's Easy Thumbnails. Batch processing in PhotoPlus (PhotoWise was long gone by this point) had always been rather awkward whereas it was Easy Thumbnail's strong suit. The only settings I've ever used are size and quality but pictures can be renamed, rotated, and some other characteristics, such as brightness, altered. All pictures in a directory are processed with "Make All" or a selected subset processed with "Make".
I stopped using Easy Thumbnails in the middle of 2012 but it was not because of any flaws or shortcomings. It is true freeware and has been rock solid. I started using a different program because it simplified workflow but Easy Thumbnails is still on my computer and I won't hesitate to use it if the need ever arises. I also would not hesitate to take a serious look at other Fooke products if appropriate. I own and am happy with CSE HTML Validator but if I am ever in need of a replacement, Fooke Software's NoteTab will be the first place I look.