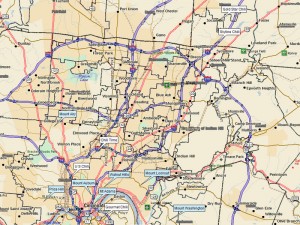 When I did my week of 4-ways, I noted that there were a lot more than seven chili parlors in Cincinnati and trimming the list had not been easy. I didn't pretend that my list contained the best or the most popular or the top of any other particular category but, like just about every list ever made, it left out some places somebody else thought should be there. Leaving out somebody's favorite was pretty much unavoidable but in this case one of the somebodies whose favorite I left out is a friend who very politely made me aware of that fact. Her favorite had, in fact, been on my semi-final list of nine but didn't make the final cut. So here is chapter two. It's shorter than the original and spread over several weeks rather than seven days. It includes the two independents that were on my list of nine, the two biggies that are sprinkled around the area like McDonald's and Subway, and one slightly spontaneous addition.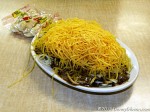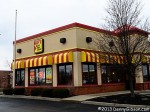 Feb 27, 2013: Gold Star was once the number one Cincinnati chili chain but it was passed several years ago in number of stores, gallons served, dollars made or some other thing that bean (and onion) counters count. At the time of writing, the Gold Star website identified 87 restaurants plus their product is available in groceries and online. This particular parlor is about two and a half miles from my home directly in front of my grocery. I once read that you should never go grocery shopping on an empty stomach and, since that meshed perfectly with my belief that you should never do anything on an empty stomach, I embraced the advice. My pre-grocery meal is usually breakfast but, as it was well past noon and well past two weeks since my last 4-way, I decided to kick off phase two of my chili parlor tour en route to a much needed Kroger visit. This stuff is pretty darn good; Better than I thought I remembered and definitely filling enough to fend off that desire to dash to the snack aisle. Gold Star was started in 1965 by the Daoud brothers from Jordan. The first restaurant was called Hamburger Heaven until the brothers realized that their chili was outselling everything else on the menu. Hamburgers are still available but I've never had one.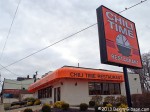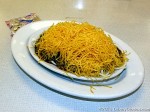 March 7, 2013: This is the place that prompted my friend's "Have you ever tried…?" question. I explained that it was one of the last two to be cut from my list and that I had indeed tried it although it had been a long time ago. When I said that, I was thinking that a long time ago was ten or twelve years. As it turns out, this particular "long time ago" was a wee bit more. There were once two Chili Time parlors; The 1963 original on Vine Street and a somewhat newer one on Reading Road. In 1987, CVS offered something in the neighborhood of a million bucks for the Reading Road location and that paid for this bigger and fancier place across the street from where it all started. Since the only Chili Time I can recall ever being in is the one on Reading, it's pretty clear that I last visited sometime prior to 1988. There is real flavor here. It's not super hot spicy but has a tang that stayed with me for awhile.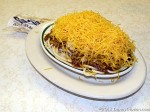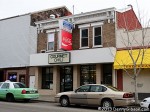 March 13, 2013: The title of this post was supposed to be "4 more 4s" which I thought sounded vaguely poetic but, half way through, I messed it up by stopping at Gourmet Chili. It wasn't on my original list of nine but it kept popping up in other folk's online Cincinnati chili chatter to the degree that I knew it would haunt me if I didn't try it. So, when I was fairly close at the right time of day, I slipped on in. It's in Newport, Kentucky, just a couple of blocks from the original Dixie Chili. There is a real diner feel here with a counter and grill and a menu of standard short order items in addition to chili. The chili is quite meaty with a middle of the road flavor. It doesn't look unbalanced but, as I worked through the 4-way, I thought there should have been a little more cheese and a little less spaghetti. Just a minor complaint about a basically good meal.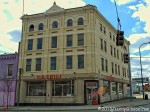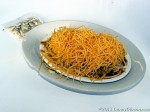 March 21, 2013: I really had to make an effort to eat here. Not because it's out of the way but because it isn't. US Chili is right across the street from Camp Washington Chili so I've seen the building plenty of times while dining at what I've called my favorite. My visits across the street made me aware of the place but it was seeing all the favorable comments in the web that caused me to put in on that original list of nine. The building housed a Provident Bank until 1972 and the big vault door is still there filling one wall of the men's restroom. The 'US' in the name stands for Uncle Steve although the Steve it refers to was the owner's grandfather rather than uncle. There once was a Steve's Chili and I was told the location but have forgotten. I'm certainly glad I managed to work in a stop because this was a 4-way I really liked with a meaty and flavorful chili. I'm going to have a tough decision to make on future visits to Camp Washington.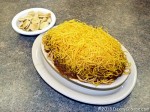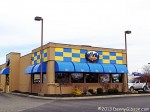 April 4, 2013: Skyline is the current Cincy chili champ. I'm not sure when they passed Gold Star but there are now more than 130 Skyline parlors in four states. Most are in the tri-state (Ohio, Indiana, Kentucky) area but four are in Florida so that snowbirds don't have to go all winter without a chili fix. That means, of course, that a Skyline is statistically more likely to be near a given point than is a Gold Star and that is indeed the case with my home. This one is less than a mile away and I walked there on the first day that it seemed warm enough to walk anywhere. Skyline Chili was started in 1949 by Nicholas Lambrinides, a Greek fellow who first worked at Empress, the granddaddy of Cincinnati chili restaurants. It's said that the view of downtown Cincinnati from the first location was the inspiration for the name. It's also said that that first location was at the intersection of Quebec Road and Glenway Avenue on Price Hill. I've been to that intersection and, while there are some great views a few blocks away, I couldn't find one very close. I did find this 4-way, like the one at Gold Star, better than I thought I remembered.
In the end, I'm kind of glad I added that fifth stop to this group because now I can reflect on an even dozen chili parlors sampled over the last couple of months. I'm not at all capable of describing the subtleties of flavor or other characteristics of the various offerings. All I have is my subjective opinions and they are very subjective indeed. That's made obvious by the fact that some that top other lists would be near the bottom of mine. But even those I like the least I still like. As I said after the first seven, I'd happily scarf down another 4-way at any of them and that includes the big Skyline and Gold Star chains which I've unjustifiably snubbed in the past. When I started this, Camp Washington and Blue Ash were my number one and number two choices. I encountered three legitimate challengers while doing the dozen. Dixie, Dehli, and US all impressed me. Guess that means I now have five favorites instead of two.
---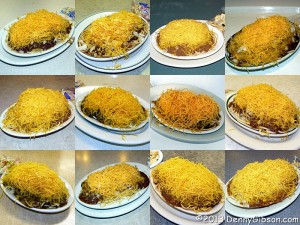 Eleven of the twelve chili parlors serve their 4-ways in oval plates with the other using a round one. There was also just one parlor that served those oyster crackers loose in a bowl rather than in a sealed plastic packet. A full twenty-five percent (i.e., 3) of the dozen bravely served their 4-ways without the protection of an underlying safety plate. Name these five standouts (1 round, 1 loose, 3 brave) and I'll buy you a 4-way at any of the dozen Cincy chili parlors I've mentioned. Transportation not included.