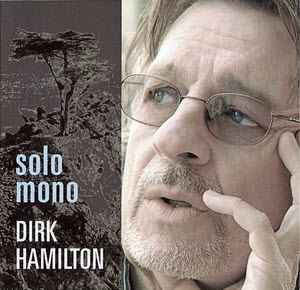 I've never seen Dirk Hamilton in person with a band. I've seen him twice with another guitarist and twice with no one else on stage period. Conversely, I've never listened to him without a band. OK, maybe "never" is a stretch but a bold print seldom sure isn't. I own just about everything Dirk has released and it's the rare track that doesn't have at least a few top notch musicians backing him up. That's not a bad thing. The tunes are served well by the added layers and the folks Dirk chooses to play with always add something to the mix. But listening to solo mono is kind of like a "being there" I can relate to.
Depending on who is counting and how they do it, this could be Dirk's eighteenth release or maybe "only" his fifteenth or maybe something else. Counting solo studio albums is a lot easier. This is it. Dirk is an excellent performer and a darn good front man but his song writing is what has captured most of his fans. solo mono contains thirteen new songs though they're not all entirely new to me. The album, released in June of 2012, contains several tunes I'd seen Dirk perform the previous October. I put off ordering solo mono thinking that our paths might cross again in the fall of 2012 and I'd buy it at a show. That didn't work out so I finally did the mail order thing a few weeks ago and not long after I popped the CD into the player I was struck with "that's just the way I remember it" thoughts.
As with just about any collection of Dirk Hamilton tunes, the lyrics range from insightful to comical with Hamiltonian wit and romanticism everywhere. At this point I intended to quote examples of wit and insight and the rest but I found myself going around in circles trying to make my selections. Instead, I'm going to cheat big time and just point to the lyrics for the entire album. They're here. All of Dirks lyrics are on his website; From the "First off let me say that I get sick and I get bored" that opened his first album in 1976 through the "Tommy gun placed on a polka dot gown" that opens this one. I've always appreciated the fact that, almost from the moment he and the internet found each other, Dirk has made his lyrics available online. With packageless downloads steadily increasing, that is ever more important and something I wish more artists would do
There is Dirk style social/political commentary — usually oblique and sometimes cryptic — in songs like "Delete Deletions" and "Slow Suicide" and there are genuinely fun songs like "Nobody I Know" and "Jan Jan Janet". Smack dab in the middle there is a five line splash of silliness in "The Pygmy Forest". And there are love songs; Several love songs. I don't like love songs but I like Dirk's. I don't know the inspirations behind "She Calls Me Bello", "Our Sweet Love", "Unreachable", and "Kalea" though I'd bet they are real. Dirk's heart writes quite a few songs for him.
The only instruments on the album are Dirk's guitar, harmonica, and voice and I confess to having lower expectations because of that. I shouldn't have because I know, from seeing him live and alone, that many of his tunes work just as well without layers of sound as with. And there is, of course, a certain advantage to having less between ears and lyrics.
It is always a treat to hear new Dirk Hamilton material in any form. I know there will be more stuff with a band (a CD with the Italian boys is already in the works) and I hope there will be more stuff like solo mono.
You can order the CD here or purchase its contents here. You can watch Dirk and Don Evans do a song from the album here and Dirk do a song not from the album (it's from 1978's Meet Me at the Crux) at that October, 2011, concert here.