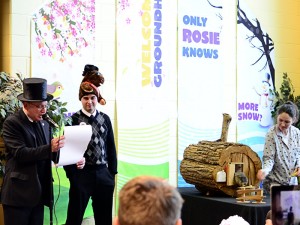 A far as I know, not a single marmota monax in the city of Cincinnati has shown any propensity for prognostication. That means I have to go to Dayton if I want my Groundhog Day predictions live. But not only is Dayton, OH, a much shorter drive than Punxsutawney, PA, watching the Boonshoft Museum of Discovery's Rosie do her thing is a lot less effort and a lot more comfortable than watching Punxsutawney Phil, which I did once, do his. It was even a little more comfortable this year than most. Normally the resident groundhog works in an open wooden shelter beside the museum but, when single digit temperatures were predicted, museum staff decided to move it inside. There is no doubt that both Rosie and the kids (who are very much the target audience) appreciated this. The predicting took place next to a solid wall of windows so that any shadow making stuff that showed up outside could make shadows inside, too. It took a few banana slices from the museum's Melissa Proffitt to entice a reluctant Rosie to poke through the door but she eventually came out and took a look. There wasn't a hint of a shadow and Rosie confidently predicted an early spring. Museum President and CEO Mark J. Meister read the proclamation with TV weatherman Chris Mulcahy, who served as MC, looking on.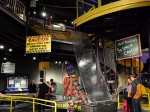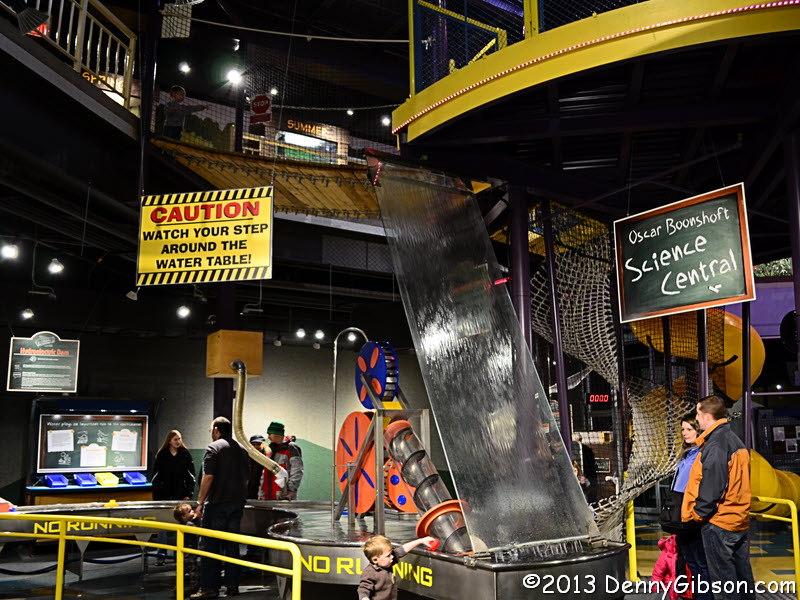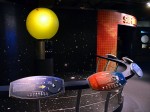 After the big event, many of us kids headed off to check out the museum though quite a few did hang around to get a closer look at Rosie. It's no accident that the museum feels like a combination children's museum and natural history museum. In 1993, one century after the Dayton Museum of Natural History began, some community leaders got together to explore starting a children's museum. The philosophies of the new group and the existing one were so similar that the Children's Museum Board and the Board of the Dayton Society of Natural History merged in 1996 and this is the result. The phrase "…to be the premier regional provider of interactive science learning experiences which enrich the lives of children and adults…" is from the Boonshoft's mission statement and I think they may have already done that. This is one really cool place. Every single employee I had contact with was extremely friendly and helpful. On top of that, they all seemed to be having a really good time and spoke about the museum with genuine enthusiasm. Seems like this is a good place to work as well as visit.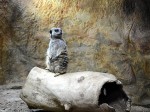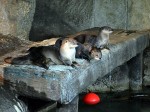 Rosie isn't the only resident of the museum. The Discovery Zoo contains quite a few animals, birds, and other smallish critters. Otters and meerkats are representative of the size of animals on display although the largest resident is a Burmese python that's nearly 16 feet long and 180 pounds in weight. I understand that he almost never sees his shadow.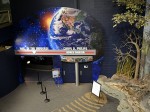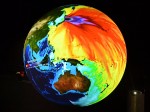 I think my personal favorites were The Dome and Science on a Sphere. Both are pretty much what they sound like. The Dome is a full-dome screen on which planetarium programs and movies, including some in 3D, are projected. Science on a Sphere is a large ball which can display images on its entire surface. The picture here shows a color coded image of the height of waves during the 2011 Japanese tsunami.
This was Rosie's second year of handling Groundhog Day duties. She was found injured in Minnesota and is believed to be about three years old. Although she has essentially recovered from her injuries, she is partially blind in one eye so returning her to the wild would not be wise. Ivy, Rosie's predecessor retired last year then died just a month after Groundhog Day. The average lifespan of a groundhog in the wild is two to four years; In captivity it's eight to ten. Ivy was right at eleven. Of course, regular meals and good shelter had a lot to do with Ivy's long life but I've a feeling that having a purpose helped a little, too.
---
The Boonshoft Museum of Discovery is in Triangle Park a little north of downtown Dayton. It seems somehow fitting that my visit to Rosie and the park occurred on the eve of this year's version of the National Football League's Game of the Century. Until I started putting this post together, I simply assumed that Triangle Park took its name directly from its location in the triangle formed by the joining of the Stillwater and Great Miami Rivers. Turns out that had nothing to do with it. The name comes from a trio of Dayton companies who sponsored a professional football team and gave them the name Dayton Triangles. This was their home. The Triangles were charter members of the American Professional Football Association (APFA) which changed its name to the National Football League (NFL) in 1922. Not only was professional football played here for several years, there is at least a 50/50 chance this is where the very first APFA/NFL game took place. Read the story here then imagine an all Ohio Super Bowl between the Dayton Triangles and the Columbus Panhandles.