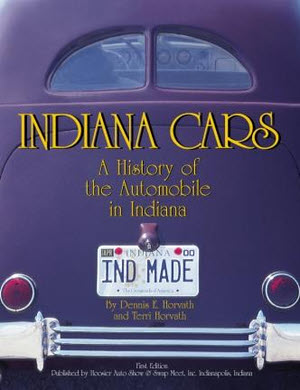 Yes, I am late to the party. This book on Indiana's automotive history was published in 2002 but, since it's about old cars, none of the history has changed and the cars have only gotten older.
I learned of and purchased the book when one of its authors performed guide duty on a tour that was part of the Lincoln Highway Centennial Kickoff in Indianapolis. On that tour, Dennis Horvath took us to many of the city's automotive landmarks and this book contains all of those and more. Though few might consider Indiana Cars light reading, it is certainly interesting reading. Dennis knows automotive history. And he really knows Indiana automotive history.
There is a tremendous amount of it. At one time second only to Michigan in automobile production, Indiana has been home to more than 400 vehicle brands. Some are still widely recognized — Stutz, Studebaker, Duesenberg. Other, such as Lexington, Flandermobile, and Empire, are pretty much forgotten outside of hardcore automotive circles and the pages of this book. Similarly, Indiana had plenty of automobile pioneers. Louis Chevrolet, Harry Stutz, and Eddie Rickenbacker are fairly well known; Guys like Elwood Haynes, Charles Black, and Louis Schwitzer not so much. They're all there in Indiana Cars.
There is an introduction and "A General Overview by Decade" to get things started. That overview begins in the 1890s. It talks of the overall automotive industry and Indiana's role in it. There are lots of numbers. It was this I had most in mind when I said that some folks would not consider the book light reading. Statistics are necessary, of course, in showing growth and relationships. The Horvaths do a good job of presenting them but they are still numbers. Numbers don't make for exciting reading but they make for a good reference book and that's a role Indiana Cars plays quite well.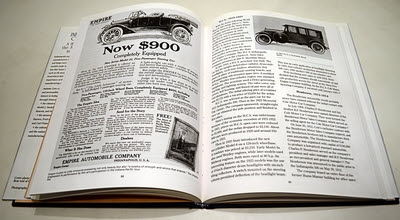 Once the background is set, the book moves onto the various manufacturers. Not every mark ever built in the state is covered but there are sizable sections on what the Horvaths consider "Significant Automobiles". The reading isn't so dry now. There are fairly lengthy articles on the likes of Duesenberg and Studebaker and shorter ones on others. The book is well illustrated with photographs and clippings from period literature. Facts are seasoned with entertaining anecdotes. Joe Cole got his first car running and took off without installing the brakes. Lack of fuel finally stopped it after many laps around Monument Circle in Indianapolis. In 1891, Charley Black's six-block drive in a Benz included crashing into both a surrey and a shop window. Those were the good old days.
Trucks built in Indiana have a section as do military vehicles. Many of those pioneering Hoosiers who put Indiana near the front of the early automotive development are covered, too. Appendices include listings of all Indiana cars, major milestones, and other items.
Indiana Cars excels as a source of information  The book most likely contains the answer to whatever questions you may have about the automotive industry in Indiana. Car nuts will find it entertaining. They and history buffs will find it educational. Those in neither group may find it a wee bit dry.
Indiana Cars: A History of the Automobile in Indiana, Dennis E. Horvath and Terri Horvath,  Hoosier Auto Show & Swap Meet Inc. (printed by Jackson Press), 2002, hardback, 8.8 x 11.2 inches, 198 pages, ISBN 978-0964436459