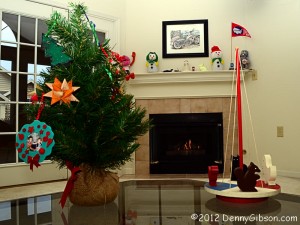 I'm not much of a decorator. When there were young'uns in the house, there was always a tree at Christmas and I even strung up a few outdoor lights once or twice but there has been nothing of that sort around my bachelor abodes. When I lived in a one bedroom apartment, I found a couple of red balls that probably came from someone's tree and hung them from a ceiling beam. I've expanded on that just a bit in my current location. At some point after Thanksgiving has passed each year, I take my single armload of holiday trim out of the closet and make things all Christmasy.
The little tree is store-bought. It's the only component in my Christmas display not made by a family member's hand. The snow-couple on the mantle are covered soft drink bottles. My sister dives into various arts and crafts projects on a regular basis and one year she made quite a few of these. I'm guessing that the ornament with the photo of the grandsons was assembled by my daughter-in-law or maybe the oldest boy did it. It arrived just a few days before my first ever Christmas Escape Run in 2006 and I took it with me. It first hung on a tree of sorts in a room above the Under the Hill Saloon in Natchez, Mississippi.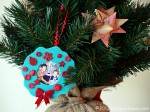 The star is one my Mom made of wax-coated paper. My sister and I each have five. I think Mom may have formed the stars then dipped them but I might not be remembering that quite right. She passed away in 1959 so the stars are at least 54 years old. Unlike my current piece of fake shrubbery, there was some store-bought stuff on our trees in those days but not a lot. There was popcorn we had strung while also eating a goodly amount of it and each year we carefully removed the hanging strands of tinsel (icicles) to reuse the next. The tree was definitely not fake.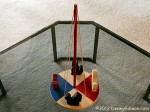 The merry-go-round isn't exactly holiday themed but, like pretty much any toy, seems quite appropriate. I guess Dad ran out of furniture to refinish or chairs to cane or maybe he just wanted a break. Whatever the source of the urge, it resulted in the production of several of these merry-go-rounds some years back. They were populated with a variety of animals. Mine has a chicken, duck, cat, and squirrel.
The sweat of the honest makes the merry-go-round.
Dirk Hamilton, Rainbows in the Night, 1995
---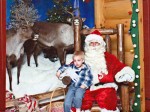 I wasn't able to get an ornament made by my newest grandson in time to include it in this post. Construction is in progress and I'll update this post with a photo as soon as possible. For the present, I'll just include this photo so that all three grandsons are represented.
---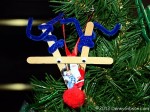 UPDATE: January 3, 2013 – I picked up the new ornament on the way home from my Christmas trip. As promised, here it is. I'm all set for Christmas 2013.