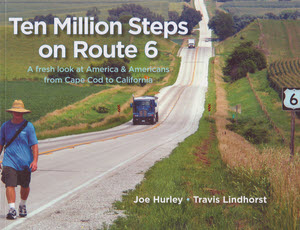 "It's not the destination but the journey."
"Life begins at the off ramp."
"Getting there is half the fun."
Most people who visit this website are probably familiar with those and similar quotes. How about "Friends don't let friends walk the interstate"?
I and a lot of folk I know preach about taking back roads and slowing down. Joe Hurley took that idea a few million steps further and not only stopped to smell the roses, he saw them get watered and watched them grow if only a smidgen. Starting at the east end of the longest US highway that ever existed, Joe spent about eight months walking its full length. He didn't really count each step or measure each mile but 10,000,000 of one and 3600 of the other are believable round number estimates. While Joe was walking, Travis Lindhorst, his camera wielding partner, was driving. Joe was within hailing range of sixty and Travis was twenty-seven. Perhaps that saying about wisdom coming with age is not universally true.
This is not a guide book. There are some maps but they are not of a scale suitable for navigation. They'll show you that US 6 goes through the north part of Indiana and the south part of Nebraska but that's pretty much the limit of their detail. And Joe does occasionally mention where he slept or ate but the mentions are neither regular nor recommendations. The book resembles a collection of newspaper columns. Some bits that now appear in the book were, in fact, published as stand alone articles during the trip to help finance it but many were composed well after the walk was over.
Hurley retired as a columnist for a Danbury, Connecticut, newspaper shortly before starting his 2004 cross country walk so it is natural that this book is a compilation of column-like articles. As I read Ten Million Steps…, I was reminded of collections I've read from another newspaperman, Ernie Pyle. For several years before the start of World War II, Pyle was a popular travel writer. He posted his personal human interest style observations from wherever he happened to be. Joe Hurley's observations seem a lot like Pyles although they are 70+ years newer and organized in a single line rather than a wild scatter pattern. As presented in this book there is another big difference. Ernie Pyle didn't have Travis Lindhorst beside him.

Sometimes Lindhorst's photos are coordinated tightly with Hurley's text and sometimes they just represent the general area. Either way they are always wonderful additions to the story. Some would be right at home in a super-wide hardbacked coffee table book but then I probably couldn't afford it. The fairly large format paperback with glossy pages serves the photos well in an affordable package.
Route 6 goes through big cities like Cleveland and Chicago and Hurley neither bypasses them or ignores them in his writing but most of the stories come from the small towns and open spaces in between. He talks with the manager of a bookstore in Yarmouthport, MA, an auctioneer in Foster, RI, and the manager of a tiny theater in Newtown, CT. He stops by the Harness Racing Hall of Fame in New York and a little league game in Pennsylvania. In Galton, PA, he talks with a women who tells him "I spent 16 years scrimping and saving to get out of here then I spent the next 16 years scrimping and saving to get back." Out west Hurley looks over the remains of Topaz, a WWII Japanese interment camp and walks through a snow storm while covering the all but empty 160 miles between Ely and Tonopah, NV. In between were a lot more towns, a lot more people, and a lot more country. Two locations that Joe counted among his favorites are the Rialto Theater in the not-all-that-small town of Joiet, IL, and Glenwood Canyon in Colorado. Of the latter, Joe says, "I've traveled across the United States and nothing has beguiled me more than Glenwood Canyon."
Joe and Travis and Route 6 and the Geo Metro that Travis used to drop off and pick up Joe each day all made it to California. Only Joe and Travis made it to the coast. In 1964, Route 6 was truncated and Bishop, CA, became its western terminus. Joe and Travis said goodbye to the work-horse Geo when the brakes pretty much vanished during a side trip to Death Valley. To meet their now firm end date, they left the ten year old car with a junkyard mechanic who promised to repair the car and give it to an elderly gal in need of transportation. After the run of its life, the red Geo just might be fetching groceries at the edge of Death Valley.
The current US Highway 6 may officially end just over the California line but the pavement it once followed west is still there and Joe kept right on walking until he reached the Pacific Ocean at Long Beach. West of Bishop, the former US 6 now goes by names like CA 395 and CA 14.
Back on Cape Cod, the traveling odd couple had dipped their hands in the Atlantic. At the end of the Pine Street Pier, they dipped them in the Pacific then Joe and his wife spent a couple of nights on the Queen Mary. I'm guessing that Joe spent a significant amount of his shipboard time with his feet propped up.
Route 6 is a great road. The few sections I've driven (MA, PA, UT) have gone through some mighty pretty country and I'm very glad that Hurley chose it for his walk. But I'll still risk saying that this book could have been written in large degree on several roads other than US 6. Route 6 took Joe across the whole country and gave him a bigger than average sample size but the the book is not about directions and turns. It's about people and places and steps and stories and it's a darned good read. More information at route6walk.com.
Ten Million Steps on Route 6, Joe Hurley and Travis Lindhorst,  Arkett Publshing, 2012, paperback, 8.5 x 11 inches, 240 pages, ISBN 978-0-9816781-6-5