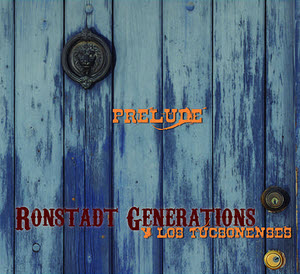 I've intended to review Prelude, the latest from Ronstadt Generations, ever since it came out in July. But almost immediately, a Route 66 road trip got in the way then the quick appearance and disappearance of a related opportunity caused me to push it way to the side. It took doing a review of a newer album to remind me that this was on deck.
Technically, Ronstadt Generations is Michael J. Ronstadt and his two sons, Michael G. and Petie, but there are so many musicians in their world that it seems the trio rarely performs or records entirely alone. This recording benefits from some fellows that the Ronstadts often perform with in their home town of Tuscon, Arizona. When they aren't touring, the Ronstadts perform each Monday at the Chicago Bar. They have taken to referring to the informal group that has been accompanying them and holding down the stage during their absences as Los Tucsonenses. Los Tucsonenses turn Ronstadt Generations into a full band and really flesh out Prelude.
At some point in that Route 66 trip, I realized that there was a good chance the return leg would put me near Tucson on a Monday. This was the fleeting opportunity I referred to in the opening paragraph. I was excited at the possibility of seeing Ronstadt Generations y Los Tucsonenses performing together. The excitement peaked when my Monday in Tuscon looked certain and faded when I learned that the Ronstadts would be touring in Ireland while I was in Arizona. I did go to the Chicago Bar and saw members of Los Tusconenses with other vocalists and under another name. The fact that they were great took the edge off of my disappointment at missing the Ronstadts but it didn't eliminate it. I think that maybe it was almost seeing Ronstadt Generations y Los Tucsonenses that made me forget about reviewing Prelude for so long.
The Ronstadt Generations website features the slogan "History Through Music". Packaging for their first CD, Lulo, tells us that "Ronstadt Generations exists to explore the music traditions of a family through time by keeping alive what was and exploring what is to come." Those sentiments are evident in Prelude. "What was" is addressed by several tunes from the last century and the one (at least) before that. The source of two songs, both sung in Spanish by Michael J, is "Traditional". A total of seven tracks are covers. "What is to come" gets essentially equal attention with six tunes penned by the Ronstadts.
All three sing, play multiple instruments, and write. Each contributed songs to Prelude. Perhaps in the interest of fairness, each writer has two tunes on the CD. Their writing styles do differ. Songs from Michael G, the classically trained cellist, contain a touch of complexity with slightly cryptic lyrics. Michael J's songs tell stories and are usually fairly straightforward in doing it. They, and their writer, might seem pretty much at home around an Arizona campfire. Petie's stuff is somewhere in the middle.
As part of the core trio, Michael G's cello does set Ronstadt Generations somewhat apart. Sometimes it's in front leading the song but it also floats in the background adding depth and smoothness. On this CD, the always impressive guitar work of Petie and Michael J gets some help from Johnny Blommer and the saxophone of Alex Flores adds that something extra to several tracks. Bassist Sam Eagon and drummer Aaron Emery provide a firm foundation for everybody else though Emery's tasteful fills frequently shine through.
Each Ronsadt takes the vocal lead on songs they've written and each sounds good. But a real "the whole is greater than the sum of the parts" element kicks in when the three voices are joined. This happens a bunch but might happen a little more readily on the covers than on songs whose "owner" is present. The harmonies on Stephen Stills' For What It's Worth are impressive; Those on Stills' Find The Cost of Freedom even more so. Here the voices are accompanied only by Pitz Quattrone's didgeridoo. Beautiful.
Find The Cost of Freedom fades seamlessly into Joe Glazer's The Mill was Made of Marble which flows directly into Petie Ronstadt's Like a River for a CD ending medley that showcases everything that makes this recording so listenable; Nicely layered voices and instruments on ear catching songs old and new. The three Ronstadts are accomplished solo artists. Together, they form a polished "family band". Prelude is a nice example of what they can do with a little help from their friends.