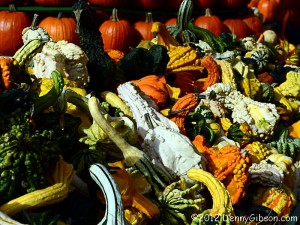 2012 is the 106th year that Circleville, Ohio, has held a pumpkin show/festival. They did the first 105 without me but I finally made it to one on Thursday. The festival started with a Tuesday night preview and will continue through Saturday. The closest I've come to attending in the past was a morning after drive through when the tear-down process was in full swing. I could tell from the empty booths and stages that this was a pretty big affair but I don't believe I realized just how big.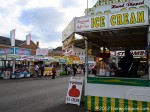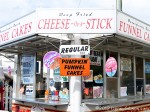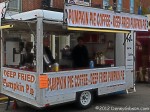 Several blocks of downtown Circleville are blocked off and the streets are lined with vendors and at least a half dozen stages. Craft booths and food booths make up the bulk of the offerings but there was at least one fortune teller, a petting zoo, and a tent filled with more exotic creatures. Some vendors added pumpkin themed items to their normal offerings while others were "all pumpkin, all the time". In addition to ice cream, funnel cakes, and deep fried pie, there was, pumpkin fudge, cookies, bread, and good old fashion un-fried pie. There was also an abundance of standard festival fare such as hot dogs, hamburgers, Italian sausage, french fries, tacos, and deep fried everything. The longest line was at a chicken booth.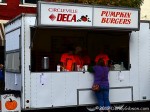 My dinner was something festival appropriate. The question on my lips was obviously one that had been asked many times before. The folks operating this trailer simplified things immensely by posting a description. The pumpkin burger was a sloppy joe sort of thing and quite good. It even had just a hint of pumpkin flavor if I held my mouth just right.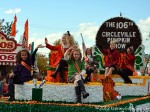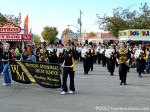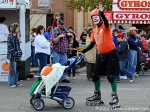 The Circleville Pumpkin Show calls itself "The Greatest Free Show On Earth". In addition to those six stages with bluegrass, rock, symphony, and everything in between, there are parades. Lots of them. This year there are seven with beauty queens, marching bands, and all the trimmings.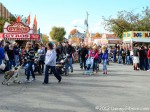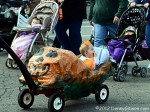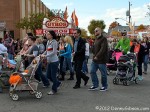 You may have noticed that Mr. Pumpkin had a stroller with a little Pumpkin. That's because this is the Baby Parade with somewhere around 500 babies; All under three years of age.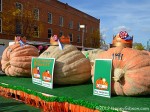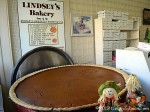 So you lug your half-ton pumpkin to the show and it's only good for third! Yep, 1141 pounds of pumpkin was bested by 1216 and 1315 pound giants. There were actually several 1000+ pound entries. In theory, just one of those big pumpkins could produce several pies like the one pictured since a mere 96 pounds of pumpkin is required. The complete recipe is on the wall for all you home bakers.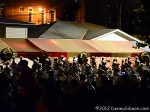 I stayed long enough to see part of the evening Band Parade which featured the Marching 110 from Ohio University. It was really too dark and I was too far away to get any decent pictures but it's pretty obvious that "The Most Exciting Band in the Land" filled the streets. Several high school marching bands filled out the parade for a rousing musical finale to my day.
It's not easy getting your crops to grow in formation but Ohio farmers are up to the task.