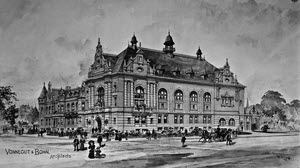 The Lincoln Highway Association was incorporated in Michigan in July of 1913 but the meeting that got things rolling was held in September of 1912 in Indianapolis, Indiana. It was held in the building pictured to the right which was then called Das Deutshe Haus and now known as the Athenaeum. I am now off to a recreation of that meeting in that same building as part of the Indiana LHA centennial kickoff. There will be bus tours before and after the recreation plus I've got to get there and back.
The journal for the trip is here.
This blog entry exists as a place for comments on the trip.