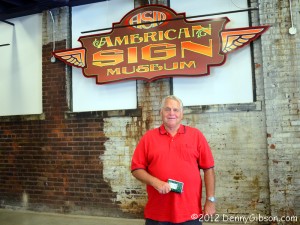 I get to be part of somebody's road trip again. Don Hatch is a roadie whose nickname and online handle is "RoadDog" and that is the source of my not particularly clever title. He stopped in Cincinnati today on his way back from relatives in North Carolina to his home in Illinois. Unlike Fred Zander, whose road trip I got to be part of last month, Don has been to Cincinnati before and even visited the American Sign Museum in its original location. In spite of that, or more likely because of it, seeing the new and improved set up was high on his list of goals for the visit.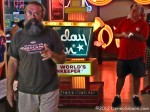 To save time and make sure we didn't miss the four hour (noon-4:00) Sunday window, we met at the museum. We arrived a little after 1:00 and roamed the museum on our own for awhile then hooked up with about a dozen others for the 2:00 tour. This was my first "official" tour of the museum in the new location. Museum founder Tod Swormstedt did his normal excellent job job while RoadDog took notes.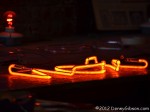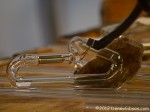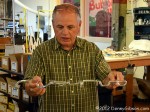 I experienced another first by going inside Neonworks, the independent sign shop that occupies some of the museum's space. The shop can be seen from the museum proper through large windows but is usually idle on weekends. Today craftsman Tom Wartman showed up near the end of the tour and we were allowed into the shop for an up close look and a little demonstration. As we watched, Tom sealed and filled then brought to life a length of neon text.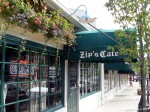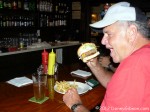 Another of Don's Cincinnati goals was grabbing some chili but, as I've noted before, all the independent chili parlors are closed on Sundays. The two big chains, Skyline and Gold Star, have plenty of stores open and both turn out some very fine Cincinnati chili but I talked Don into waiting until Monday for his chili fix and trying out a 'burger joint today. Probably the currently best known Cincinnati 'burger joint is Terry's Turf Club and that's where Fred and I went. However, Don has experienced — and loved — Terry's in the past so I led Don to someplace "new". That "new" is in quotes because, while Zip's Cafe may be new to Don, but it has been turning out award winning "Zip Burgers since 1926.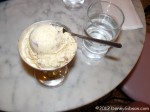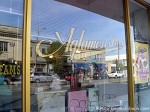 For dessert, we did exactly what Fred and I had done and ate delicious ice cream at one of the 98 year old marble tables at the Aglamesis Brothers shop on Madison Road. Most people who think of Cincinnati ice cream think of Graeter's and I don't want to demean it in anyway. Like Skyline and Gold Star chili, it is an excellent product and I'm proud to live near its source. All three brands are Cincinnati to the bone, if any of them had bones, but they can now be found in other cities in the region. Camp Washington and Blue Ash Chili (which is in tomorrow's plans) are among a number of independent one-location Cincinnati-only chili dispensaries. Aglamesis does have two stores but all of their ice cream is made on Madison Road. Fred actually had Graeter's on his list when he arrived but I steered him to Aglamesis. I was happy to learn that he did get to sample their product in Columbus, Ohio, and sent this picture to prove it.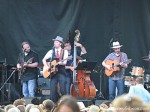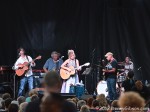 We wrapped up the day at Washington Park. The park, which originally opened in1855, had become a somewhat scary place in recent years but an extensive makeover has just been completed. The ribbon cutting was July 6 and tonight a sort of grand reopening celebration took place with a free concert featuring Jake Speed & the Freddies and Over the Rhine. You can't get much more Cincinnati than that.
The reverse road trip continues tomorrow with stops planned for Blue Ash Chili, Pompilio's, and Mansion Hill Tavern.