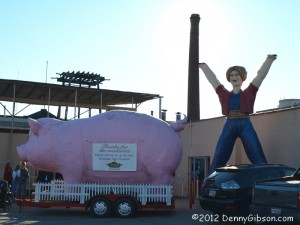 One phase of Tod Swormstedt's dream came true in 2005 when the American Sign Museum moved into a warehouse on Essex Place in the Walnut Hills section of Cincinnati. The next phase is coming true as it gets ready to move out. The warehouse was not the ideal location but it did its job and provided a home for lots of signs and a shrine for lots of sign lovers. Signs come in all sizes and one of the site's shortcomings was a lack of height for some of the larger specimens. Many set in a parking lot across the street exposed to weather and vandals. That's not a problem at the museum's new home about 2 1/2 miles away in Camp Washington. The former factory's 42,000 square feet will accommodate many more signs in general and its 28 foot ceilings allow the tall guys to get out of the rain. In addition to "normal" museum exhibits, visitors will get to see the sign restoration shop and a working neon shop. In fact, the neon shop, Neon Works of Cincinnati, is already operating there and has been for roughly two years.
The Camp Washington site was initially acquired in 2007. Renovation of the building and installation of new exhibits progressed while the existing museum operated as usual. No more, though. It's time to start moving. Yesterday, January 7, was the last hurrah for the Essex Place location and a grand hurrah it was.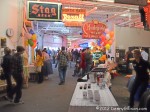 The museum announced the closing and accompanying "Done with the Old. On to the New" open house about three weeks ago through its email list and a week ago through Facebook. Apparently a couple of hundred people responded by registering for the event. Then, on Friday, the Cincinnati Enquirer ran this article and registrations skyrocketed. Registration was not required and no really accurate counting took place but it's safe to say that over a thousand people visited what many consider Cincinnati's best kept secret on Saturday. These photos were taken after 4:00 when things were thinning out. (The Cincinnati Bengals lost last week but, because some other teams lost, too, backed into the playoffs and a 4:30 game. Football fans left the museum to position themselves in front of a TV. The Bengals backed out of the playoffs by losing again.)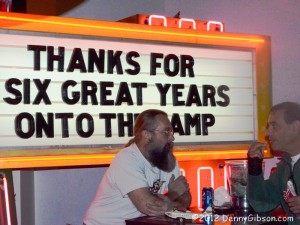 It takes more than two men and a truck and a weekend to move a museum but Tod and crew think a couple of months should be enough. They have targeted April 28 for the Camp Washington Grand Opening which will be exactly seven years after the Essex Place Grand Opening. I was there at the original and I fully intend to be there for the sequel. With the new location, the huge jump in space, and increased hours, I don't think this place will be a secret much longer.
---
Even though this was my last visit to the sign museum on Essex Place, I'll probably be back to the building. The museum's co-tenants, Essex Studios, remain and their Art Walks will resume in the spring. A large number of talented artists from a wide range of disciplines fill the studios and make the Art Walks a cross between a visit to a museum and a festival. It's another Cincinnati secret I recommend.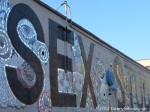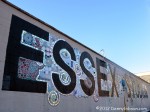 The Art Walks are in the evenings, however, so it may be a long time before I again see the building in sunlight. Therefore, I figured this was a good time to present this lesson on how a small difference in perspective can make a big difference in perception.
---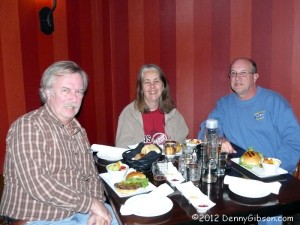 After the museum, I met Canadian roadies Bill and Karen McKibbon for dinner at their hotel. The McKibbons both work in the school system which gives them a great chunk of time off in the summer and a pretty decent one around Christmas. They use that time in well planned road trips documented here. We've followed each other's travel online for quite awhile but had never met. The closest we came was when I chased them out of the country in August but they crossed the border at Sault Ste Marie five days before I did. Today they were passing through Cincinnati on the way home from the sun and sand of South Padre Island, Texas. It's always good to turn cyber-friends into real friends.