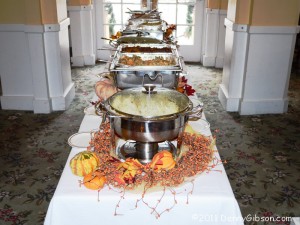 There's no doubt that Thanksgiving and road trips go together. One of the most wonderful trips in the world is a drive home for a meal with family. As a kid, I remember riding in the backseat as we traveled to my grandparents for the big day. The  distance wasn't much but the presence of seldom seen aunts, uncles, and cousins made it an exciting outing. After moving to Cincinnati, I returned to my grandparents' Darke County home several times for Thanksgiving. The distance was now greater and so were the odds that I hadn't seen those aunts, uncles, and cousins since the previous Thanksgiving or Christmas. The excitement, though subdued by the adult me, was still there.
Hosting Thanksgiving sort of skipped a generation in my family. By the time my grandparents passed on, I was married and participating in my wife's family events and my sister was on her way to a sizable family of her own. She became a Thanksgiving host pretty much without even thinking about it. I even made the trip there a couple of times while my parents joined the group at my sister's or visited other relatives. My sister's brood reached seven with six being girls who inherited her mothering and cooking talents. Somewhere along the line, Sis moved into a hostess emeritus role and spends the day stopping by meals hosted by her offspring for their offspring. Her itinerary this year included three different households.
While I was between wives and significant others with cooking skills, I managed to fumble my way through a couple of Thanksgiving meals. All three of my kids moved out almost as soon as they could and I'm thinking those meals might have had something to do with that.
There was never a shortage of invitations to spend the holiday with friends though I think they may have increased just a bit when I went from head of household to sole occupant. Nature abhors a vacuum. Wives and mothers abhor a bachelor. Not abhor in a we-don't-like-you sort of way but abhor in a we-can-fix-that sort of way. Friends and coworkers who were wives and/or mothers along with the wives and/or mothers of friends and coworkers who were neither wives nor mothers assured me I was more than welcome at their celebration. I like to think I was polite while declining most invitations.
In 2005 I hit upon the idea of a road trip to avoid the drama and trauma of turning down invitations without a note from my doctor. I suspect I was partially driven by the desire for a break from a heavy work schedule but the whole world seemed simpler once I could honestly tell people I'd be out of town for Thanksgiving. I hit the road early on Thanksgiving day and had pulled pork for dinner in Nashville. I repeated the escape in 2006 by going to Bryson City, North Carolina. This was also the first year I went on the lam for Christmas. I returned to Nashville for Thanksgiving 2007 then drove the Dixie Highway to Asheville, North Carolina, in 2008.
Things changed in 2009. I retired in the middle of November, drove to Illinois a week later, and found myself in the unusual position of driving toward home as Thanksgiving approached. The Nawrockis, close friends who I had actually enjoyed a few past Thanksgivings with, had some changes, too. Their two daughters had moved out and the idea of a big at home feast was not as attractive as it once was. I'm not entirely certain that '09 was the Nawrockis' first time at the buffet in the old hotel but I believe it was. In any case, it was my first. For the unemployed, the need to wring pleasure from a four day weekend doesn't exist. In fact, four day weekends don't exist and you have to watch carefully to pick out weekends at all. Though I continue to scurry out of town for Christmas, Thanksgivings since 2009 have found me home and at the buffet. My daughter and son-in-law live nearby and they attend too so I even have some real family there.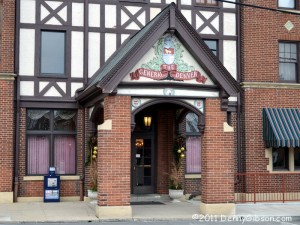 The old hotel I mentioned is the General Denver in Wilmington, Ohio. If it wasn't for that city in Colorado, the hotel might be the best known namesake of a fellow who left Wilmington to become, among other things, a California Representative to the US Congress, the US Commissioner of Indian Affairs, and Governor of the Kansas Territory. The hotel is named after James W Denver. His son, Matthew R Denver headed up the group that built the first-class four-story hotel in 1928.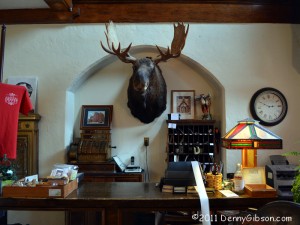 Mark and Molly Dullea own the place now and live on the top floor. It has an abundance of old time charm which makes it the perfect place for Thanksgiving dinner and the buffet table is filled with all the appropriate goodies. For motherly cooks responsible for feeding a family every day, orchestrating a holiday dinner might be no big deal. For empty nesters and others who don't feed even a small flock on a regular basis, it can be stressful. I'm quite happy leaving the orchestrating to professionals, eating my fill of turkey, stuffing, and pie, and going home thankful that I didn't impose on anyone.
---
On Thanksgiving day I posted a link to a video on Facebook. I'd seen the video just a few days earlier on a blog that I follow. Ara Gureghian is an accomplished chef and photographer who sort of dropped out of the main stream about five years ago. His blog, which he has described as "My daily therapy, published weekly or so…", includes some great photographs, some soul searching, and some travel. Until quite recently, all the travel was on a BMW motorcycle with sidecar. In September, a Honda based ECamper, which will allow some cold weather outings, was added. The video isn't his. It's the creation of filmmaker Louie Schwartzberg and Ara just passed it along as I'm doing. I believe that most readers of this blog will like the six minute video. Many may also like the blog.
Gratitude (Louie's video)
The Oasis of My Soul (Ara's blog)