Last week's visit to Fort Recovery was triggered by a book. That book, a new one on the 1791 Battle of the Wabash, was available (pre-release) and its author, in addition to autographing copies, gave a presentation on the battle. As I wrote the blog entry about the visit, I was simultaneously struck by the idea of reviewing the book and the realization that book reviews might make good subjects for blog entries. I've recently picked up a few new books including some by people I know and to whom I've promised some feedback. Reviews, it seemed to me, would be a good way to feed the blog and focus the feedback. So here is the first book review entry. I promise there will be more.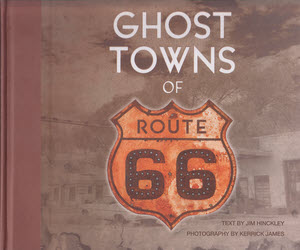 The subject of this review is a book I picked up from the author, Jim Hinckley, when I passed through Kingman, Arizona, in June. Ghost Towns of Route 66, is the second Hinckley product I've read. The first was Route 66 Backroads where I was at least as impressed with the photography as with the writing. That is true of the newer book as well. …Backroads used photos from Kerrick James and Rick & Nora Bowers along with some from outside sources. James is the only photographer listed on the cover of Ghost Towns… although there are a few by others including Hinckley. My praise for the photos is not intended to diminish Hinckley's writing but to recognize some wonderful images and acknowledge a huge reason that these books get a second look when spotted on a store shelf or counter.
Ghost towns is a subject where photos and words can truly complement each other. By definition, a ghost town is a place that was once thriving but is no longer. When you visit a ghost town, you look at what remains and try to imagine what once was. James' pictures let you see what remains and Hinckley's words help you imagine what was there once upon a time.
Hinkley's words are the result of some serious research. The man definitely does his home work. Facts about a town's beginning are usually given and the events and circumstances leading to its rise and fall are discussed. Some of the falls are complete while others are far from it.
A few towns on Sixty-Six do match the far west ghost town image of complete  desolation with nothing moving but tumble weeds. Those that do, like Allanreed in Texas, Endee in New Mexico, and Glen Rio on the state line between them, tend to be a bit to the west themselves. Other towns that Hinckley has included, such as Galena in Kansas and Afton in Oklahoma, ain't dead yet.
In fact, Galena and Afton are current must-stops on any Route 66 trip through the area. In Galena, 4 Women on the Route has become a major roadside attraction in just a few
years and in Afton, Laurel Kane's Afton Station, established a bit ahead of 4 Women…, is a true Route 66 icon. But Hinckley isn't to be faulted for including these towns. Both are mere shadows of their boom time selves. The decline has currently ceased and maybe even reversed but there was sure a lot of it and there is no guarantee that it isn't just paused.
This isn't the first book one should acquire when planning a drive down Historic Route 66. In my opinion, that spot belongs to Jerry McClanahan's EZ 66 Guide and there are other route related books offering a broader view of the road and the attractions at its side. But, if you are attracted to clusters of dilapidated buildings and often wonder what a wide spot in the road used to be, Ghost Towns of Route 66 could be just the book you want. You'll get lots of history and some great photos of many un- and under-populated
settlements along the historic highway.
Ghost Towns of Route 66, Jim Hinckley and Kerrick James, Voyageur Press, June 2011, 10.25 x 8.75 inches, 160 pages, ISBN 978-0760338438

---
Viva la Mush or rebellion in the heartland. I like fried mush. It reminds me of my childhood. The fact that Bob Evans restaurants served this breakfast staple accounted for many — perhaps even most — of my visits there. Last month, when my local Bob Evans informed me that mush was no longer available, I was heartbroken. When this came up in a conversation with my sister, she told me that, although it was no longer on the menu, fried mush could still be had at the Bob Evans in Greenville, Ohio, if you asked. I stopped in to make sure she wasn't just teasing me and found that, not only was it available, it had been returned to the menu. I told the cashier how I had been forced to come there because my own Bob Evans had dropped my favorite and she told me they had tried that, too, "but it didn't go over very well." After a week or two mush was returned and it reappeared on the menu at the next printing. Viva la mush and viva the small town restaurant manager who keeps her customers happy in spite of corporate directives.