Two years ago I didn't even know who Josh Hisle was. Now I believe I can call him a friend. I first went to see Josh perform about a year and a half ago in response to some very complimentary chatter in the local blues society's online group. Between the time of that chatter and actually meeting Josh, I realized that I had heard of him before. I'd seen the CNN report on a guitar playing Marine in Iraq but hadn't really connected that with Cincinnati. Josh lives in Indiana but it's in the corner that is often claimed as part of Greater Cincinnati. He did two tours in Iraq. One as a gung ho young dude with no personal attachments and one as a more contemplative husband and father. His music was an important part of both tours. That CNN report is here.
That first time seeing Josh was sort of like getting the sampler platter at a BBQ joint. No, it was more like getting the sampler platter at a Burmese sushi Tex-Mex gelato Cajun pizza BBQ joint. In the years between Ramadi and that night in Rising Sun, Indiana, Josh had performed head-banger heavy metal, soft acoustic folksy stuff, blues ala country, country ala blues, and every other musical genre that he could hook on to. That evening contained tastes of just about all those flavors.
The show was supposed to be sort of a shakedown for Josh and cellist Michael G Ronstadt who were about to start a tour as the two-piece group Lost In Holland and, to a certain degree, it was. The two of them played a fair amount as a duo but they also played as the point men of just about every permutation of musicians that could be concocted. It was great fun, great, music, and showed off both Michael and Josh as extremely talented and versatile musicians. I saw that show as part of a short trip and wrote about it here.
I was impressed and went to see Josh several more times. That sense of variety continued as I saw him alone, with Lost In Holland, Ronstadt Generations, and other mixes of people. It became something of a joke that I never saw Josh twice with the same lineup. On Thursday I saw another pre-tour shakedown.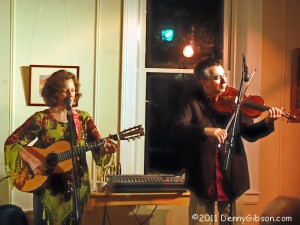 Lisa Biales began the concert at the Oxford Community Arts Center solo but brought up violinist Doug Hamilton after a few tunes. Josh joined them for a couple of songs before Lisa and Doug finished out the first half of the show. Lisa is both musician and actress and the evening was something of a sendoff for her as an actress. She has a significant role in Francis Ford Coppola's Twixt and would head to Toronto the next day for the movie's premier.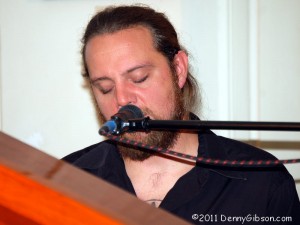 But it was Josh who was there for the shakedown. Singing in a war zone brought the Marine to the attention of Neil Young who was working on a documentary. That was 2008's CSNY/Déjà Vu which Neil asked Josh to appear in. Josh said yes and that soon led to meeting the 'C' & 'S' & 'N' parts of the group, too. When the 'S' guy, Stephen Stills, needed an opener for an upcoming tour, he turned to Josh. Once again Josh said yes, and on Thursday he shared with the OCAC audience the songs he will draw from when he begins the tour in October.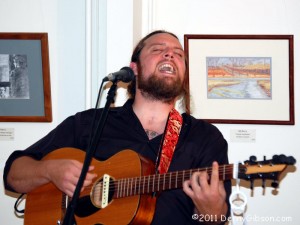 It's a powerful collection of songs including a couple written or completed specifically for the tour. His time on stage with Stills will permit playing only a portion of the set we heard Thursday but it won't be the same portion every night. He will mix it up depending on location, audience, and probably his own mood. Josh is very aware that getting to present himself and his music at sold out Stephen Stills concerts is a valuable opportunity. He's not going to waste it. He will be doing his portion of the show alone but will return to the stage each night to sing Love the One You're With with Stills and his full band. Not only will that give the audience a little reminder of the guy that opened but it's got to be one hell of a thrill. Good luck, Josh. Go get 'em, buddy.
---
Today is the tenth anniversary of the terrorist attacks on New York and Washington. Every form of media — TV, radio, papers, Internet, etc. — is filled with reminisces and other commentary. I've nothing to add but making a blog post today without at least acknowleding the date doesn't seem quite right, either. So I'll point to what I wrote on the first anniversary when memories and emotions were more powerful. Yes, we'll never forget but our memories may change. That nine year old piece is here.