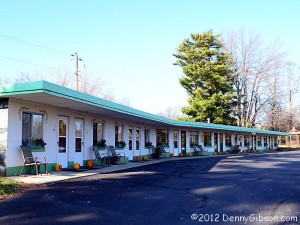 Although I did spend a night away from home, it wasn't really a road trip and, though I did attend an event, it wasn't the sort of thing that produces a lot of pictures for an Oddment page. Good thing I've got a blog, eh?
The focal point of my little outing was Friday's annual meeting of the Ohio National Road Association. These meetings are held in the Columbus area and, while it would be feasible for me to drive home after one of them, it wouldn't be all that much fun. In the past, I've used them as an excuse to spend a night near Columbus and do Columbusy things. This year's meeting was in Lafayette, Ohio, about midway between Columbus and Springfield. I thought about using it as an excuse to spend the night in Springfield then had a better idea.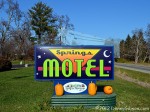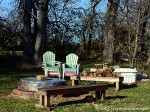 The Springs Motel is about ten miles south of Springfield near the town of Yellow Springs. I stopped here a few years back to check out the place as a possible overnight on a weekend cruise being planned. It didn't work out that time but it has remained in my mind as a place I'd like to stay. I had envisioned staying here in the summer when I could sit outside and chat with the neighbors but temperatures in the twenties pretty much eliminated any chance of that happening. I still very much enjoyed my stay, however. The twelve room motel was built in 1956 and refurbished in 2002. It's reasonably priced, quite comfortable, and operated the way an independent motel should be. Its owner has imprinted it with a personality that comes through on the website and in placards like this. Folks often rent the entire motel for family gatherings or events in Yellow Springs.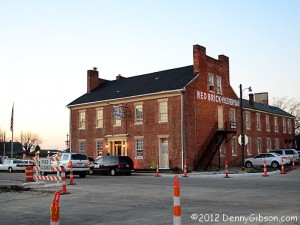 The meeting in Lafayette was at the Red Brick Tavern which identifies itself as "A house of hospitality since 1837". Its construction anticipated completion of the National Road in this area by just a bit but it was soon providing food, refreshments, and lodging to travelers on the new road. What better place for a bunch of National Road fans to meet than in a building that started serving our kind about 175 years ago? The tavern's fortunes fell with the coming of the railroads, rose with the coming of automobiles, and fell again when I-70 pulled traffic away from the National Road/US 40. It was idle and about to be auctioned when the current owners, Madonna Christy and Cris Cummins brought it back to life. It was sure busy Friday night. Of course, our group of near forty helped but, in addition to the dining room that we occupied, the main dining room seemed just as full and the bar area was overflowing. Partly because of the crowd, I took no pictures inside and barely got this one outside as the sun was setting. I had to deal with on going construction as the road is widened once again. I wonder how may times the Red Brick Tavern has seen that happen.
An excellent meal was immediately followed by the business meeting. Highlights included a report on the ongoing interpretive signs project and the ramping up of a project to replace or repair missing or badly damaged mile markers. Two Milestone Awards are given each year. Mike Peppe received the Leadership Award for his work with the interpretive signs while  Madonna Christy and Cris Cummins received the Preservation Award for their resurrection of the Red Brick Tavern. Dean Ringle will remain on the board as Immediate Past President while Doug Smith ends his possibly record setting run as Vice President to become President. Mary Ellen Weingartner is the new Vice President.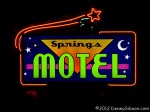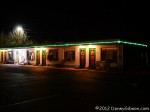 It was full on dark when I drove back to the motel so the lighted sign and neon bordered building were welcome sights. My room was also quite welcoming. Take a look here.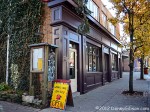 On Saturday, I hung around Yellow Springs long enough to try out the highly acclaimed Winds Cafe. This place gets considerable press and I found it classy but not stuffy. I was there for lunch so it's possible that dinner time is different but I doubt it. Menus, featuring local ingredients, change seasonally. Today's offerings included an omelette and, this being my first meal of the day, that was my pick. This was not, however, a ham & cheese omelette from some chain restaurant. This was a smoked trout and Boursin omelette "flipped the traditional way" in a French iron pan and that's exactly what it tasted like. Excellent!
---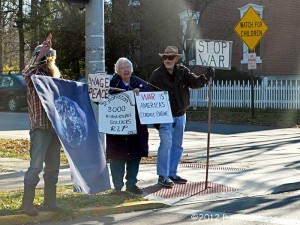 As I headed south out of Yellow Springs, I passed something that could have been part of an SNL skit about old hippies. Of course it also looked like something I could probably be a part of so I smiled and waved as I drove by. I get to Yellow Springs a few times each year but I guess I've not been there between noon and 1:00 on a Saturday in at least ten years. Since late 2002, a small group of anti-war protesters has been spending the first hour of each Saturday afternoon standing on  a Yellow Springs street corner. A nice article here tells much more. I have immense respect for those people and they've got me thinking about digging out my old beads and scrounging up some cardboard.