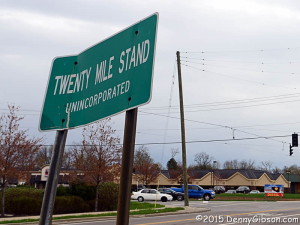 It was two years ago today that a nearly two centuries old stagecoach stop named for its distance from Cincinnati was demolished. When I first wrote about the building in early 2012, it was still standing. That article included a photo taken from the same position as the one at right. That photo can be seen here. The row of shops in the more recent picture were there in 2012. They were just blocked from view by the old roadhouse.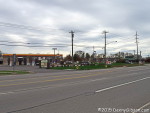 The stage stop turned roadhouse turned restaurant turned night club was leveled on April 16, 2013, to make way for a convenience store. The new business opened a few months later. That's it, a Big Mike's Gas N Go with Shell brand gas, in the picture at left. Big Mike is Mike Schueler, president of Henkle Schueler and Associates the real estate outfit behind all of this.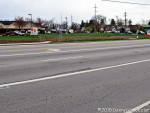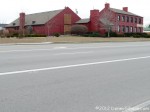 I don't have a 2012 photo from the spot of the previous picture but I do have one from nearby. I've paired it with one taken Tuesday from essentially the same location. The 2012 shot includes the entire Twenty Mile House but the only part of Big Mike's that shows up in the recent shot is a standalone sign. Hmmm.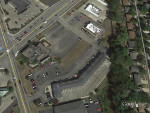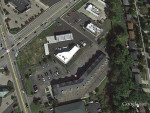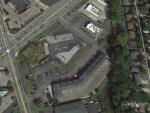 Here's a different view. Thanks to Google Earth and its Historic Imagery feature, we can see what the lot looked like on August 29, 2012 (the first picture) and October 10, 2013 (the second picture). The third picture is a blend of the first two and shows a new light rectangle where a portion of the older structure once stood. That rectangle is a concrete slab containing a half dozen or so parking places. Those parking places clearly could not exist without removing a corner of one of the twentieth century additions.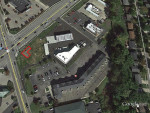 I don't think even the most preservation minded among us cared one bit about any part of those additions but what about the original early nineteenth century building? You could say I'm beating a dead house here but I did one more thing. I outlined what I believe to be the original historically significant portion of the building and overlaid just that on the 2013 image. A slightly rough estimate of the distance between roadhouse and parking pad is 25 yards. There's maybe 50 yards between roadhouse and gas pump or convenience store.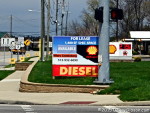 Big Mike's convenience store fills most of the new building but a little space still remains. Good thing for Mike his nice big empty lawn has room for this decorative sign.
My 2012 post on the standing building is here. The 2013 post on its destruction is here.