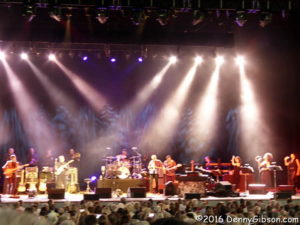 You've probably seen those "I MAY BE OLD, BUT I'VE SEEN ALL THE GOOD BANDS!" T-shirts. I'm pretty sure I could get away with wearing one but I won't for two big reasons. One is the implication that "all the good bands" have come and gone which is just not true. There are good bands emerging every day and I intend to see some of them, too. The second reason is that, even if I limit the field to bands of my g-g-g-generation, there were plenty I missed and that includes, even though I quote them, The Who. I also missed The Doors, Cream, and, until last Tuesday, Steely Dan. That's when they opened the main leg of their "Dan Who Knew Too Much" tour at Cincinnati's Riverbend Music Center. Sure, it wasn't the Skunk Baxter, Denny Dias, Jim Hodder Steely Dan. That particular good band has indeed come and gone. But the thirteen piece that Fagan and Becker fronted down by the river was for darn sure another good band and one that I did get to see.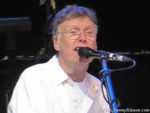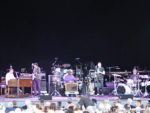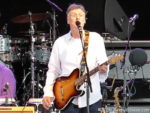 Back in the day I also missed the The Spencer Davis Group, Blind Faith, and Traffic and I got to make up for just a little bit of that on Tuesday, too. Steve Winwood, a member of all those groups, opened the show and managed to work in tunes from all three as well as from his solo career. He delivered most of those songs from behind his Hammond B-3 but occasionally stepped out to put his considerable guitar skills to use. It's hard to imagine a better way to get this show started.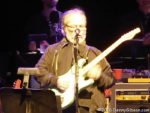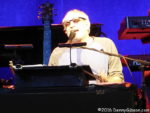 As you'd expect, Donald Fagan did most of the Steely Dan lead vocals with Walter Becker taking over for Daddy Don't Live In That New York City No More and the three female backup singers doing an outstanding round-robin job on Dirty Work. Those female voices were an important part of the mix throughout the concert.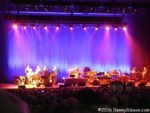 A four piece horn section was another key part of getting close to that "just like the record" sound. Jon Herington handled most of the lead guitar work with Becker playing behind him. But Becker did get his licks in here and there including some sterling solo work in Josie. Fagan stood to play melodica (I think) on a couple of songs but stayed at the electric piano most of the night. Behind him, Jim Beard took care of a lot of the keyboard work. Bassist Freddie Washington and drummer Keith Carlock complete the band.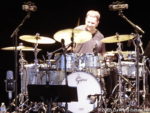 For me, Carlock was a surprise bonus. I'd done no homework for the concert and had never heard of Keith Carlock although he has played with Steely Dan since 2003 and has plenty of other impressive credits, too. My time as a mediocre drummer helps me recognize good ones. I was impressed immediately and in awe after just a few songs. My take is that he plays with the finesse of a jazz drummer (think Buddy Rich) and the power of a rock drummer (think Max Weinberg) and that's pretty much what Steely Dan needs.
I learned a little about Carlock at breakfast the next day. Half Day Cafe is a great breakfast spot that I manage to reach a few times each year. I don't know why I picked Wednesday for one of those times but I did and it makes a fine morning after story.
I walked in and sat at the counter. Behind it three employees were chatting and laughing but quickly stopped and turned their attention to me. "Don't let me ruin the punchline", I joked. They laughed and one said, "Oh, we were just talking about the concert." She pointed to the employees on either side and explained, "They went to see Steely Dan last night:" Of course I said "Me too" and got back "So did they" with a motion toward the couple in a booth behind me. The exchange of random memories — all positive — was on.
One of the concert attendees was a Cafe server who is also a drummer in a successful local band. He is a long time Keith Carlock fan and filled me in on some of Carlock's history. The cafe owner was not at Tuesday's show but had seen the band multiple times in the past and contributed memories of earlier Steely Dan concerts. Spontaneous fan club meetings are the best.