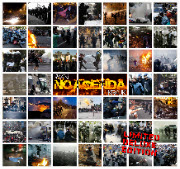 I was pretty much prepared to not like this. I only became aware of Ryan Kralik when he recorded a cover of Neil Young's "Ohio" with Josh Hisle but I've certainly heard of him a lot since then. Actually, heard from him a lot would be more accurate. In order to download that "Ohio" cover, I signed on to his mailing list and that led to becoming Facebook friends. Down these two funnels, Kralik has poured a steady stream of promotional messages. The first were about the "Ohio" cover, then they were about this album, and now they are about an in process tour. I've no particular problem with guerrilla marketing of this sort. It may lack the punch of a full page ad in Rolling Stone but, for cash strapped artists, it beats a blank and can be fairly effective. But the primary goal of Kralik's messages seemed to be connecting his name with the better known musicians who had helped with the recordings. The basic idea is no doubt good but when that seemed to be about the only thing Kralik had to tout and I'd heard it too many times, it became off-putting. There seemed to be far too much grasping at coattails involved. I became irked rather than piqued.
So I kind of hoped to just ignore the album but knew that wouldn't be easy. In an idle moment a few days after a streaming preview became available, I gave it a listen. It didn't suck. It sufficiently didn't suck that I ordered it under some special edition half price offer. That was in late November. It arrived sometime between January 27 and February 6. I was out of town so can't really nail down the delivery date but I clearly had a couple of months for negative thoughts to grow. This was not the result of simple laziness. The delay was caused by production problems but it was still a delay and it did nothing to endear Mr. Kralik to me. Some of that guerrilla marketing talked about the packaging so I kind of knew what to expect. The CD itself is made to look like a vinyl record complete with (printed non-spiraling) grooves. It is inside a standard cardboard CD sized sleeve. That sleeve is in one side of what looks like a folding double LP jacket (for 7 inch LPs) along with some stickers, tickets, and such. The other side of the jacket holds a very nice booklet with lyrics, pictures, personnel, and most of the other things you want to know about a CD but aren't always told. That booklet, all by itself, counterbalanced a whole bunch of the negativity I'd developed. The remainer was knocked off by the music.
Those names that Kralik dropped with wild abandon early on are all here. Dave Krusen (Pearl Jam) is on three tracks. Rick Rosas (Neil Young, Joe Walsh) is on two. Michael G Ronstadt appears three times and Josh Hisle once. Josh and Michael I know from their solo stuff along with their work with Lost in Holland and Ronstadt Generations. Some of these guys and a couple of others get the occasional music credit but the lyrics are all Kralik's. So are the vocals.
The music begins and ends with ukulele tunes. Another resembles something the Ramones might have done. That's quite a range though No Agenda does not hit much of the space in between. The two uke songs and another tune, "Me and You", which might actually be a love song, are kind of slow and kind of quiet. The remainder are all driving rockers. Kralik is no opera singer but he doesn't try to be. He doesn't push his range in delivering the topical and witty words he has written and it sounds right. "The Egypt Riot", that Ramonish tune I mentioned and which is my favorite on the CD, could almost be too topical. The big time protests in Egypt came and went while No Agenda was being birthed but songs that capture a moment, like the aforementioned "Ohio", are often good things. Maybe "The Egypt Riot" does that. I'm not sure.
When Rosas and Krusen aren't around, Keith Lowe and Jeff Strainer do admirable work on bass and drums and Pete Jive contributes some nice guitar to those two ukulele pieces. Kralik's guitar can be heard on almost every track and it's solid but it is James Holsapple who adds the bright work here. I particularly liked what he does on "The Setting Sun" where he deservedly gets co-writer credit.
I've named three songs and there are five more. Yep, eight songs, totaling about thirty-two minutes of music. Maybe that's not unusual today. I really don't know. I certainly wouldn't mind if there was more music here and that would not be the case if the music sucked. It doesn't.
Check it out here.