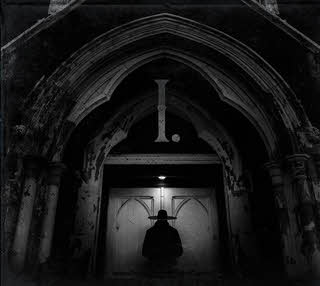 This CD makes me smile. Not laugh. Smile. It's not funny but it sure is fun. It opens with a scene reminiscent of Michael Jackson walking with his girl in Thriller or Brad and Janet stumbling through the rain in The Rocky Horror Picture Show. Then, instead of dancing ghouls or an invitation to do the Time Warp, the stranded couple encounter the Dead Man String Band making a come back of sorts. It happens as an old man on a porch explains how death might not be exactly final for the truly obsessed and DMSB starts building a tune called "Resurrection Waltz" in the background.
The opener, like almost everything on the album, drives hard with biting guitar and pounding drums all delivered, as is the vocal, by Rob McAllister. He also wrote every tune and every word including the skits. One man albums, with one person playing every instrument through the magic of overdubbing, are not at all uncommon. One man bands, particularly hard driving rock & roll one man bands, are. Dead Man String Band is such a band and Rob McAllister is that one man.
For convenience and precision, a little overdubbing was employed in making this album but a live performance sounds, as the saying goes, "just like the record". With a splitter and crafty finger picking, Rob pulls lead, rhythm, and bass from his hollow bodied Gretch while pounding a bass drum with his right foot. In keeping with his "all appendages all the time" philosophy, the left foot is usually banging a snare drum or pumping a tambourine topped high-hat.
Song topics tend to be a bit off center. One's titled "Organ Donor" and another, with a bright almost ragtimey sound, talks about going to the river with "those deep water cinder block blues". Delivery and clever writing make these tunes a lot more playful than sinister, however. The opening skit gets its own track then, after six high energy rockers, the last two tracks ease off just a bit. It's all relative though and nothing on this album could be called low energy. The medium speed bluesy "Josephine" is one of my favorites and so is the following "Already Gone" with Chet Atkins style licks behind lines like:
You can hang me atop the tallest tree that you find.
Take my body. Put it in a sack. Throw it in the riverside.
The CD should eventually be available on line but the only way to get it at present is at a performance. That's not at all bad since Dead Man String Band should definitely be seen as well as heard.
My own post on the release show is here and a downloadable track from the CD is here.